c. NYC Parks Daniel Alvia
Alliance Breaks Ground on Ballfields and Honors Council Member Lander
December 10, 2021
NYC Parks Commissioner Gabrielle Fialkoff and Prospect Park Alliance President Sue Donoghue joined City Council Member Brad Lander, New York State Assembly Member Bobby Carroll, Prospect Park Baseball Association President Eddie Albert, and community members for the ceremonial groundbreaking of Long Meadow ballfields 2 and 3 in Prospect Park. The fields are the last of seven in Long Meadow to be reconstructed thanks to $1.5 million in funding from Mayor Bill de Blasio and City Council Member Brad Lander, who has been a champion of this project and others in Prospect Park throughout his tenure.
"Prospect Park is affectionately known as Brooklyn's backyard, and any good backyard needs to provide space to throw around a ball or two. Thanks to $1.5 million in funding from Mayor de Blasio and Council Member Lander, there will be plenty of room to enjoy the fully restored fields at the Long Meadow," said NYC Parks Commissioner Gabrielle Fialkoff. "We are excited to near the end of this restoration project and support our partners at the Prospect Park Alliance as their vision comes to life. We know these ballfields will be a treasured amenity for decades to come."
"Brad Lander has done so much for Brooklyn's Backyard during his tenure in the City Council, and we thank him for his service to our community," said Sue Donoghue, President, Prospect Park Alliance. "The groundbreaking of the final two ballfields at the Long Meadow represent his stewardship and support of the restoration of these vital recreational amenities for all of Brooklyn, and the larger legacy he will leave in Prospect Park."
"Prospect Park has often been called Brooklyn's backyard, and the Long Meadow Ballfields are the part of the yard where people of all ages are given free rein to play, compete, and have fun. The thousands of Brooklynites who use these fields for baseball, softball, soccer, and other recreational activities are rejoicing at this news today. I thank the Prospect Park Alliance, as well as Council Member Lander for his leadership," said Brooklyn Borough President Eric Adams.
"I'm so glad that the restoration of the final two Long Meadow Ballfields is under way!" said New York City Council Member Brad Lander. "Our parks and play areas are a critical resource, especially during this pandemic. We must continue to work to keep our communities happy, healthy, and connected through community green spaces. Brooklynites of all ages will enjoy these ballfields for years to come."
"Prospect Park is the crown jewel of Brooklyn and it has never played a more vital role in the lives of Brooklynites than it has these past two years.  For his entire tenure as a City Councilmember, Brad Lander has worked hand in hand with the Prospect Park Alliance and NYC Parks to maintain, enhance and restore this incalculably valuable public space. While I know that his support will continue in his new role as City Comptroller, I want to extend a special thank you to Brad for his partnership with me and his generous and truly unselfish support for the park and this project in particular," said New York State Assemblymember Bobby Carroll. "Thanks in part to Brads' funding, the next generation of Brooklyn ballplayers will be nurtured on these fields and with a little bit of luck, maybe one of those players will lead my Mets to win another World Series!"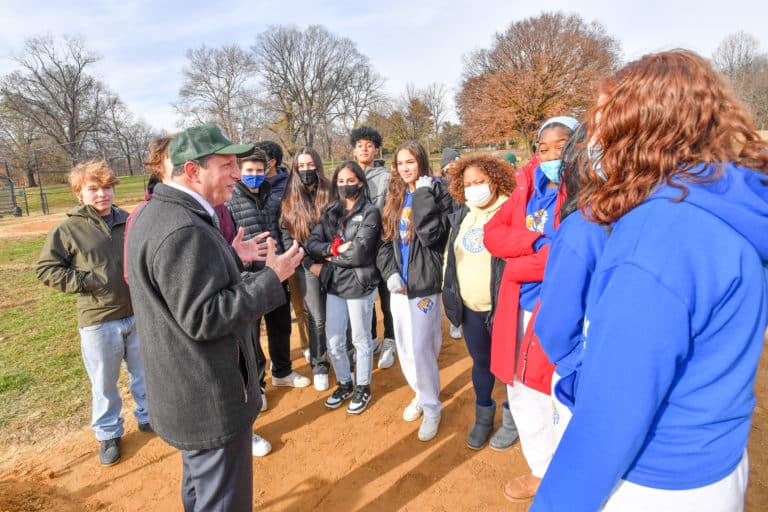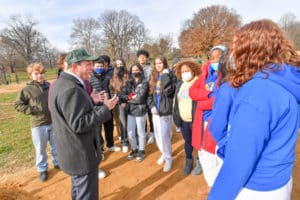 "For more than ten years I've known Brad as our elected official, and also as a coach and a parent.  He's always been thoughtful, empathetic, decisive, and creative – qualities that speak very well for the future of our city.  His unwavering support of the creation of the best ballfields in the city is a tribute to his dedication to the families of Brooklyn and will be enjoyed by hundreds of thousands for decades to come," said Eddie Albert, President, Prospect Park Baseball Association.
Upon its completion, this project will boast fully restored ballfields with additional drainage to keep the fields in good playing condition. It will also feature new pathways and benches, dedicated clay storage bins, and shaded dugouts. Construction will officially begin in January 2022, with completion anticipated for December 2022. Funding for these two fields included an $800,000 allocation from Mayor de Blasio and $750,000 from Council Member Lander.
From the early years of Prospect Park, in the late 19th century, the southern end of Long Meadow was used heavily for sporting purposes – first by croquet clubs, then for lawn tennis and then America's ultimate pastime: baseball. With increasing demand overwhelming the nearby Parade Ground fields, five baseball diamonds and space for football and soccer were constructed on this portion of the Long Meadow in 1959, with concrete and brick bleachers and surrounded by fencing, both of which interrupted views down the length of the meadow.
In 2011, Prospect Park Alliance created a new master plan to restore the fields in the Long Meadow. To date, five of the seven fields have been restored, with these two remaining fields slated to begin construction. City Council Member Lander has been integral in the execution of this plan as he secured funding for this project and others in Prospect Park. His contributions include:
Funded: Children's Corner Improvements 
In Design: Horseback Riding Ring; Prospect Park Tennis House Restoration; Nethermead Pedestrian Paths Restoration 
In Procurement: Harmony Playground Improvements and Adult Fitness Area; Maintenance Compound 
In Construction: Lefferts Historic House 
Completed: Concert Grove Pavilion; Long Meadow Ballfields 1, 4-7 including Dog Beach, Endale Arch pavement and drainage, the Parade Ground Dog Run 
Learn more about Prospect Park's Alliance's Capital Projects.