Park Drive Safety Study + Roadway Improvements
March 6, 2023
Prospect Park Alliance, the non-profit organization that operates Prospect Park in partnership with the City, today released the results of a safety study of the Prospect Park Drive conducted by leading traffic consultancy Sam Schwartz, in partnership with NYC Parks and NYC DOT.
NYC Parks and NYC DOT also announced plans to act on one of the safety study's recommendations, by piloting a safer reconfiguration of the roadway: increasing overall space for cyclists and pedestrians, and giving pedestrians space on both sides of the Park Drive to minimize conflicts. These changes will be piloted as DOT crews repave the eastern portion of the Park Drive starting next week. Following the 18-month pilot, the redesign will be evaluated for implementation along the full drive.

The Park Drive Safety Study was funded through Participatory Budgeting in District 39 of the New York City Council, which includes Prospect Park; this participatory process enables constituents to vote for public funding for projects and initiatives in their community. The study was conducted to address safety issues on the Park Drive, which was never fully redesigned after Prospect Park closed to outside vehicular traffic in 2018. Those issues have intensified with the significant increase in usage of the Park Drive by pedestrians, runners and cyclists in recent years.
"We are very appreciative of our elected officials and city agency partners for their support of this safety study, as well as the many members of the community who voted on this study as part of the Participatory Budgeting process," said Morgan Monaco, President of Prospect Park Alliance. "I also want to recognize the Prospect Park Community Committee and Park Drive Safety Task Force, who have worked diligently over many years to advocate for safety protocols on the Park Drive, and were instrumental in shaping the recommendations in the study. We appreciate and share your commitment to a safe and accessible Park Drive."
"Prospect Park hosts visitors of all kinds every day, and we're excited to work with our partners at the Prospect Park Alliance and NYC DOT on reimagining the Prospect Park Drive. This park is truly Brooklyn's backyard, and we are dedicated to creating safe and enjoyable shared spaces," said NYC Parks Commissioner Sue Donoghue. "We thank the Prospect Park Alliance for commissioning this thoughtful study to determine how we can best address the needs of all park users."
"Prospect Park became such a popular haven in recent years, and so it was time we took a fresh look at making the wonderful loop drive even safer and more hospitable to pedestrians, joggers and cyclists," said DOT Commissioner Ydanis Rodriguez. "We thank our partners at the NYC Council for funding this study, as well as NYC Parks and the Prospect Park Alliance for working with us on this exciting new redesign pilot, which combined with a fresh coat of asphalt, will make running, cycling or walking in the park even more inviting."
"Mayor Adams has charged us with finding new and creative ways to increase public space across New York City," said Ya-Ting Liu, NYC Chief Public Realm Officer. "Re-examining how we design the roads in our park system is a perfect example of how we're advancing the Mayor's vision for quality public spaces throughout the city. I applaud the Prospect Park Alliance, NYC Parks and DOT for working together on these changes that will make the park safer and more welcoming for all users."
DOT Repaving and Pilot Project
Along with the release of the study, NYC DOT will repave almost two miles of the 3.3-mile loop inside Prospect Park, focusing this spring on the eastern portion of Park Drive from Park Circle to Grand Army Plaza. The repaving will address the current heavily potholed conditions on this portion of the Drive, which has not been repaved for more than a decade.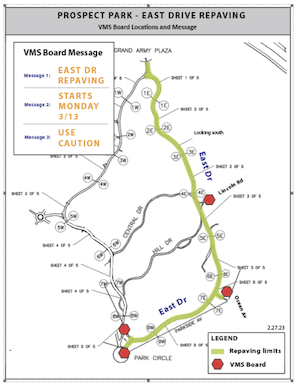 The roadway will be milled and repaved starting around the night of Monday, March 13, at Park Circle, a process that is expected to take about five weeks, weather permitting. To minimize disruption for park users, the work will be staged to take place entirely during weeknight overnight hours (see map, inset). NYC DOT crews are scheduled to resurface from 8 pm to 4 am, milling a given section of the existing roadway for approximately three nights and then paving the same section for two nights, with the goal to ensure that fully paved roads are available to park users on weekends during the entire repaving process. NYC DOT's roadways crews will provide VMS boards within the park to update park users of the progress and timing of the paving work.
On the fresh asphalt, NYC DOT will pilot one of the safety recommendations from the study: re-marking the roadway to add a second pedestrian lane on the outside of the drive. This piloted redesign (see existing and new, below) will expand space for pedestrians and joggers by adding a pedestrian lane on the far side of the drive to prevent the need for crossings and reduce conflicts. The pilot design will be publicized through signage in the park, engagement by NYC DOT ambassadors, flyers in the surrounding neighborhoods, as well as promotion on NYC social media channels, and will be evaluated closely over the next 18 months.

Park Drive Safety Study Recommendations
The study commenced in Spring 2022 with a research phase where Sam Schwartz consultants analyzed crash data, pedestrian counts, roadway grade, existing crossings and signals, and park-drive-related park user correspondence to determine critical issues. Potential solutions were identified and refined through meetings and a survey with the Park Drive Safety Task Force and members of NYC DOT and NYC Parks. In some cases, options were modified or deemed infeasible due to feedback. Study recommendations were refined based on further analysis, feedback and precedent research.
Recommendations were categorized by design interventions, such as roadway striping, crosswalk visibility and safety improvements, and renovations to the park drive to widen usable road space; operational interventions, such as signage, signals, usage rules and community outreach and education; and policy.
Review the safety study and provide valuable feedback that will enable the Alliance, NYC Parks and NYC DOT to evaluate and prioritize improvements.
Support from local Elected Officials:
"As the Council Member of the 39th District, I made protecting our cyclists and pedestrians a priority. I thank Prospect Park Alliance for their commitment to creating a space for safe cycling and walking. Their partnership with NYC Parks and the Department of Transit puts our public dollars towards pedestrian-first infrastructure that will make our roads walkable and protect New Yorkers as they stroll through one of New York's most treasured (and my favorite) park," said Comptroller Brad Lander.
"Creating safe streets for pedestrians and cyclists alike must always be an ongoing, collaborative process, and I'm happy to see a prime example of that right here in Brooklyn's Prospect Park," said Brooklyn Borough President Antonio Reynoso. "By coming together to identify and solve issues affecting the safety of Park Drive, members of the community, Prospect Park Alliance, city agencies, and additional partners are helping rebuild our roadways around the people who love to use them. I look forward to seeing this study continue to inform improvements to our beloved Prospect Park and am very grateful to all who participated in this effort."
"Prospect Park is a treasure for Brooklyn and everyone in New York City," said State Senator Zellnor Myrie. "I'm so grateful to the Prospect Park Alliance and the city for prioritizing these safety improvements on the East Drive, and can't wait to test out the repaved road myself at the annual PPTC Turkey Trot."
"I am hopeful that the recent safety study and the Park Drive Pilot Program will successfully address the challenging road-sharing issues among the diversity of park users," said Assemblymember Robert Carroll. "There is no better investment in the well-being of Brooklyn than improving access to the park and safety for everyone—I am grateful to the Prospect Park Alliance, NYC DOT and NYC Parks for making that investment for all of us."
"Prospect Park is the backyard to all of Brooklyn. Making it easier and safer for people to navigate around is a clear benefit to the entire borough. I'm grateful to the Prospect Park Alliance, community advocates, and funding from Council District 39 for helping to commission the Park Drive Safety Study," said Assembly Member Brian Cunningham. "This pilot creates safer, more accessible roadways for pedestrians, cyclists, and all constituents of District 43."
"I am happy to see that through direct democracy and community collaboration, Prospect Park is getting the safety upgrades it needs. I'm proud that Participatory Budgeting funded the study, and I support the 18-month pilot to expand safety on the eastern portion of the Park Drive for cyclists and pedestrians. I'm especially grateful to our partners at the Prospect Park Alliance, DOT and Parks, and elected leaders for their continued commitment to the Park," said Council Member Shahana Hanif. "Ensuring that Prospect Park is welcoming and safe for pedestrians and cyclists, and neighbors and New Yorkers local and far, is key to longevity not only as Brooklyn's forest, but as a pristine open space for everyone."