Explore Kensington's "Little Bangladesh" with Shahana Hanif
August 9, 2022
Looking to explore the vibrant communities that make Brooklyn's Backyard a melting pot of cultures from around the world? Prospect Park Alliance chatted with Council Member Shahana Hanif, the first Muslim woman elected to City Council and lifelong Kensington resident, to learn about her go-to spots on Church Avenue west of Ocean Parkway, a stretch known as "Little Bangladesh" for its vibrant and tight-knit South Asian community.
Communities and cultures are defined by their food and their gathering spaces, so we start our exploration with some of the must-visit restaurants and shops in the neighborhood. Sonia Cafe, located on Church between Ocean Avenue and East 5th Street, is a woman-owned restaurant that opened during the pandemic. The cafe is known for its Pakistani snacks and street food, including what Hanif has deemed the best fuchka in New York, a fritter stuffed with chickpea and potato, served with tamarind water. A few blocks west on McDonald Avenue just off Church is Radhuni Sweets + Restaurant, which was founded by Shahana's dad and another neighbor, and is now under female ownership, which has her all-time favorite breakfast wrap: fresh chapati, spiced scrambled eggs and aloo bhaji, a potato dish. The restaurant is also known for its seafood. Across the street is Suchana Supermarket, where from late spring through early summer sells the neighborhood's freshest jackfruit, the national fruit of Bangladesh.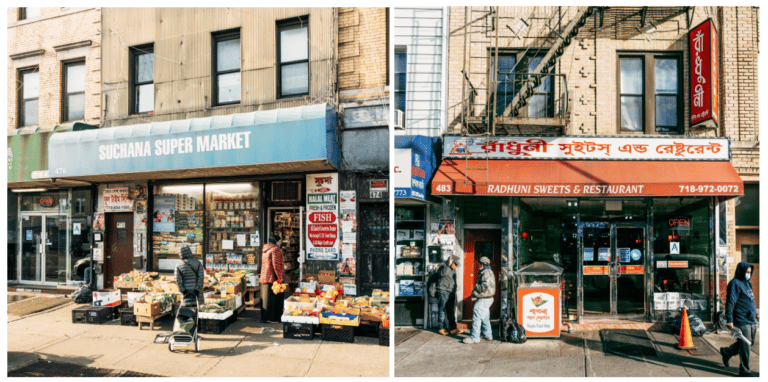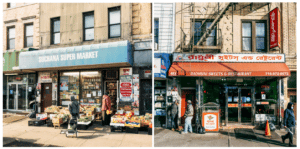 Suchana Supermarket and Radhuni Sweets + Restaurant photographed by DeSean McClinton-Holland for curbed.com
Once you have fueled up, it is time to visit some of the neighborhood's public spaces. Avenue C Plaza, located on McDonald Avenue at Avenue C, holds a unique position in the neighborhood's history. "Kensington lacked open spaces and plazas for decades and when the community came together to reclaim this vacant lot, it opened up a whole new world," said Hanif. The plaza has hosted art installations, iftar dinners during Ramadan, honored the dead during Día de los Muertos, and much more in a space that was previously unused for years. "The best part is also that neighbors did this! This wasn't prescripted to the Kensington community, we took initiative and we made this space our own."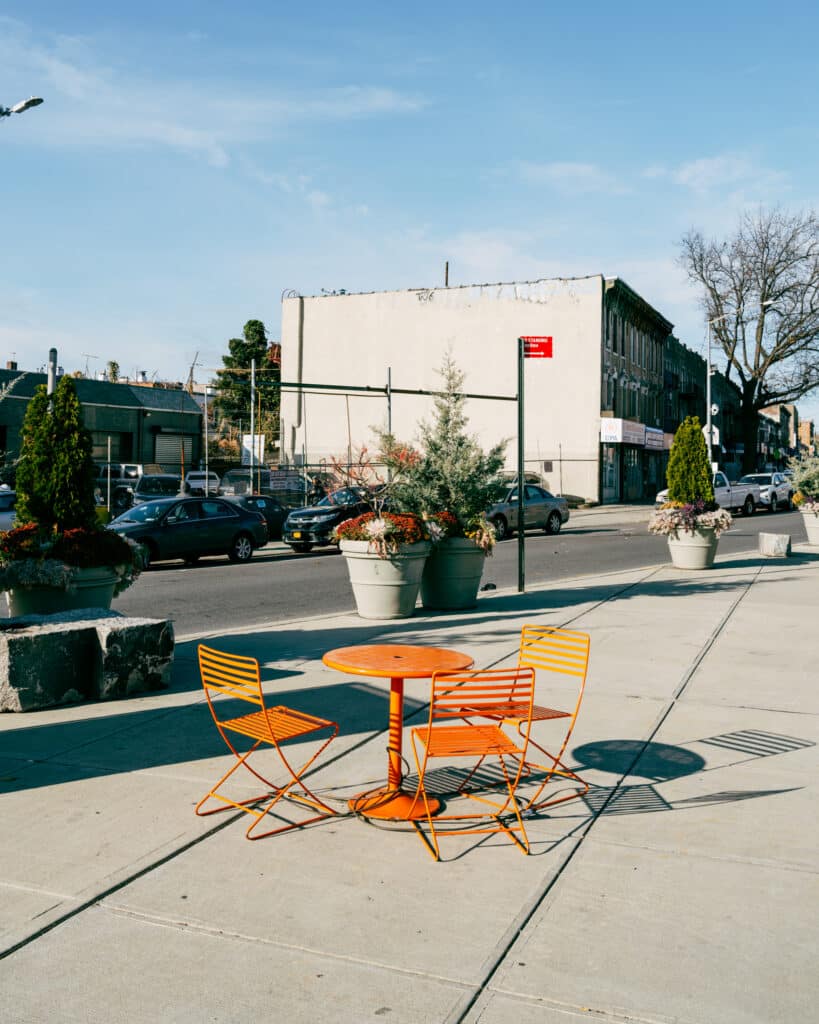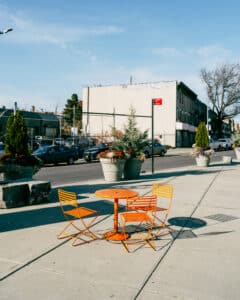 Avenue C Plaza photographed by DeSean McClinton-Holland for curbed.com
On public gathering spaces, including restaurants, parkways, and more, of vital importance to Hanif is accessibility, including both disability justice and the need to welcome people of all ages. For Hanif, Kensington's Dome Playground, located a block south of Avenue C Plaza at Dahill and Cortelyou Roads, exemplifies this welcoming spirit with diverse groups and families from different communities sharing one space. "It's not just that it's accessible to all different kinds of people, but that the playground itself has something for everyone," said Hanif. "There is play equipment for children, benches for older adults and families, and workout equipment for younger adults. It is intergenerational by design and that's why it's more than just a place to play, it's a meeting point for the community."
A few blocks east of Little Bangladesh is Ocean Parkway, which stretches from the south end of Prospect Park to the waterfront at Brighton Beach is another longtime central gathering spot for Kensington residents. It is known as the oldest bikeway in America, and is often the route Hanif takes to walk or bike to Prospect Park.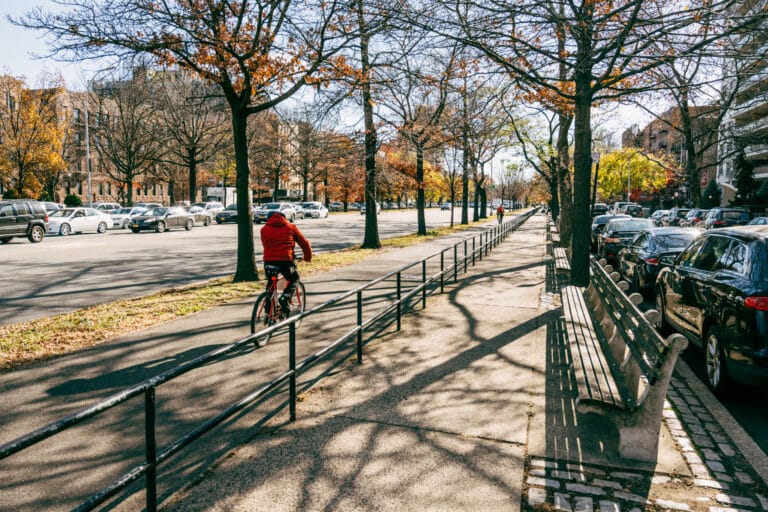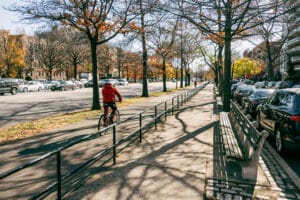 Ocean Parkway photographed by DeSean McClinton-Holland for curbed.com
As an avid user of parks herself and as a next-door neighbor to Brooklyn's Backyard, we had to ask Hanif about her favorite destinations in Prospect Park: "The park is such a magical place and every time I'm there, I feel like I discover a new section that I want to explore and take in." Among her favorite spots in the park are the Boathouse and the Endale Arch for its ability to make park-goers feel like they've left the city and entered a new world through an architectural passageway.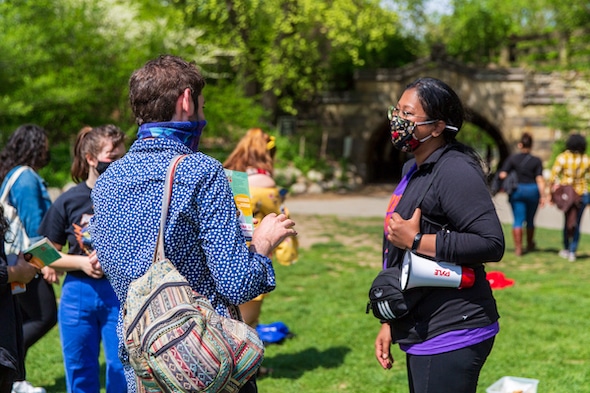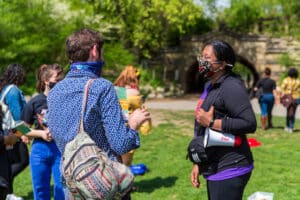 Hanif in-action in Prospect Park. Photo courtesy of Shahanah Hanif's team.
Hanif also shared a love of the Prospect Park Lake, reachable from the neighborhood by the Park Circle Entrance, which she visited often as a child and still to this day. "There's something special about the lake in the park and the wildlife. It's quiet and serene, and a wonderful place to sit and relax after a walk around the park or curl up with a good book on one of the first cool days of fall."
Next time you find yourself in Brooklyn's Backyard, make sure to check out Kensington's shops, restaurants, gathering spots that make Brooklyn such a rich melting pot for all communities.