Margaret Ring: Mayor of Prospect Park
June 6, 2023
If you've taken a ride on Prospect Park's carousel, rented a paddle boat, or visited the Parade Ground or former Wollman Rink in the past 26 years, you've likely come across–and befriended–Margaret Ring. Margaret is Prospect Park Alliance's former Carousel Manager and a staff member for over two-and-a-half decades, who has just celebrated her retirement after a storied tenure in Brooklyn's Backyard. Prospect Park Alliance celebrated her send-off with a carousel horse dedicated to her legacy in the park.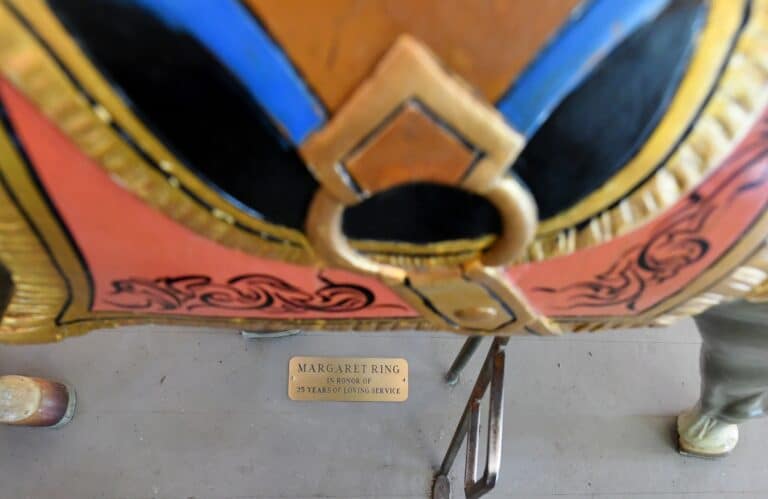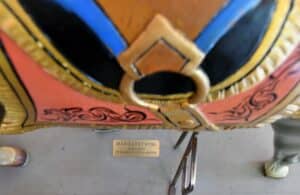 A native Brooklynite, Margaret is a familiar and beloved face to thousands of regular park goers who think of her fondly as "The Mayor of Prospect Park." A local celebrity, Margaret has made generations of families feel welcome in the park, often greeting old friends and new faces in her golf cart alongside her Shih Tzu, Percy.
Reflecting on her tenure at so many distinct sites across the park, it is clear that the community, connections, and friendships Margaret established at each park location are at the heart of her work. "I have a favorite memory at each site. From place-to-place, I saw and got to know the same people: the same people visited the carousel and rode the paddle boats. People playing soccer at the Parade Ground always came to the skating rink, so it was really just wonderful to experience each of those places." The wide network of friends and community that Margaret has built in her role at the Alliance spans far beyond the park. "Something I'll miss the most is walking down the street, or heading out on the train," she says. "People know me, and I'll hear 'Prospect Park is in the house!' That makes you feel good. If I, or the park, made them feel even a little bit better or happier, it means I've made their day–the whole park has."
While her work with the Alliance dates back nearly 26 years, Margaret's story in Prospect Park begins well before that. Margaret's father ran track through Prospect Park, her parents got engaged here, and Margaret herself has carved her own legacy as a beloved presence and representative of all that our community holds dear about their park. "I've seen this park at its best, and I've seen this park at its worst, so I can be that true Brooklynite to say that if it weren't for the Alliance, we wouldn't have this beautiful park. I was that kid who saw Prospect Park first as a beautiful park, and then later as it was in disrepair before the Alliance, and when Prospect Park Alliance first made this park come back to life. The people of Brooklyn really did and do appreciate this—this is Brooklyn's Backyard. It is the garden of Eden. It's the jewel."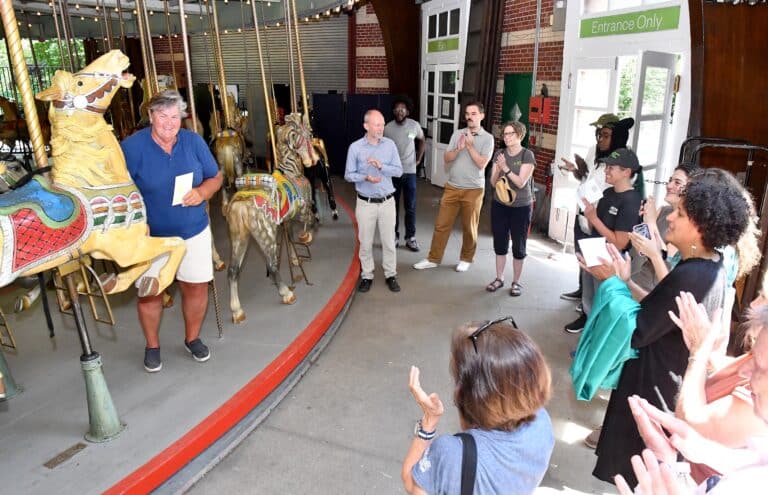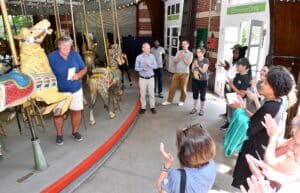 Alliance staff, friends and family gather to celebrate Margaret's lasting impact in Brooklyn's Backyard. c. Ken Brown
Prospect Park Alliance President Morgan Monaco shares, "Margaret has been the steward of so many magical moments in the childhoods of people who now come back with their own kids. Margaret is behind what makes that magic happen: it's the attention to detail, knowing how to go that extra mile for customer service and being that welcoming presence." Without question, Margaret is one of the quintessential characters that makes Prospect Park Brooklyn's Backyard.
When asked to reflect on her time in the park, Margaret's response is enthusiastic. "You can't beat this!" she says, in reference to the carousel. "It brings happiness to everyone, whether you're 3 or 65 years old, everyone loves to come to the carousel. Now that I'm retiring, I'm not going to be here, but my horse will be. I feel very honored and privileged to have this. My little nephew really wanted this—and he'll always come back knowing that this is Margaret's horse!"