Meet the Park Youth Reps
November 8, 2022
If you've stopped by the Prospect Park Audubon Center this year, you may have encountered the center's six Park Youth Representatives (PYRs) in action, leading nature walks, promoting environmental education, sharing fascinating information about the center's animals, park nature and history. Prospect Park Alliance's Park Youth Representative program offers seasonal employment to high school students and introduces a budding generation of park advocates to careers in environmental and museum education. In addition to engaging park goers at the Audubon Center, Youth Representatives also typically work at the Lefferts Historic House, which has been temporarily closed for restoration until May 2023. This year marks the 20th year of the Park Youth Representative Program in Brooklyn's Backyard.
"The Park Youth Representative Program engages an eager-to-learn, inspired team with diverse mindsets, interests and backgrounds." says the Audubon Center's Public Programs Manager, Camilla Wilson, who oversees the group of Youth Representatives. "With their support, the Alliance offers environmental education programming that is relatable and fulfilling to park visitors."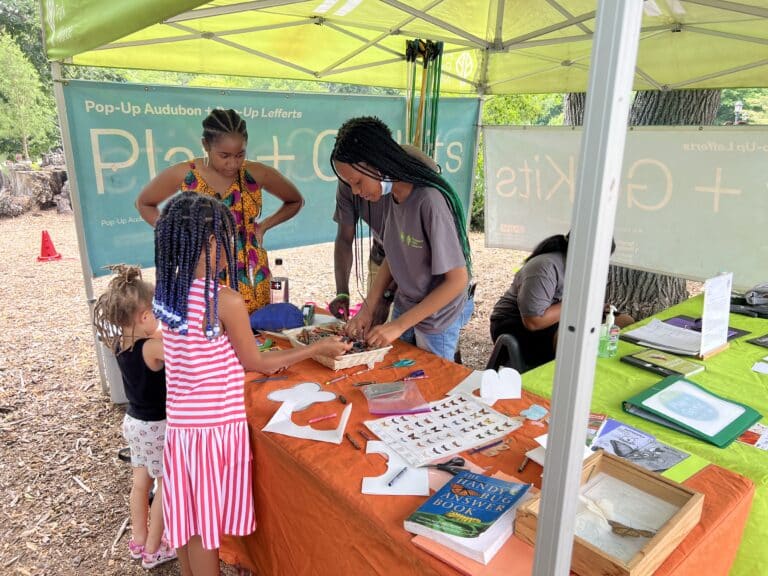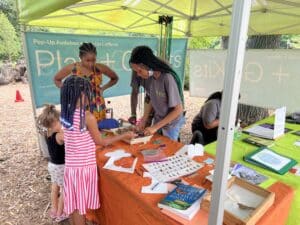 Park Youth Representatives engaging community members at Pop-Up Audubon over the summer. Photo courtesy of Camilla Wilson, Prospect Park Alliance, Public Programs Manager.
This year's cohort includes six students from local Brooklyn high schools, each with a unique perspective and set of experiences that they bring to the role. "My favorite experiences are the team building exercises. I have gotten to know my team better and made friends with them." says Barbara, a first-time PYR. The group has also fostered extensive leadership skills throughout the season. Says first-time PYR Lyric, "A highlight of the program is leading Pop-Up Audubon and the independence I feel when setting up the materials. I've enjoyed being able to give visitors information they may not have known about the park."
The program also offers youth the opportunity to delve into projects and gain first-hand experience in environmental education careers. "I have liked getting hands-on with designing exhibits," says first-time PYR Gesmaily. "Getting closer to the animals has also been one of my favorite aspects. This hands-on experience isn't something I've found at other jobs." Another first-time PYR, Erica, says an important part of her time as a youth rep has been getting to know Prospect Park and seeing its ecology in a new light. "I always used to come to the park and I had no idea about the different plants. I've learned so much about the park by being a Park Youth Representative."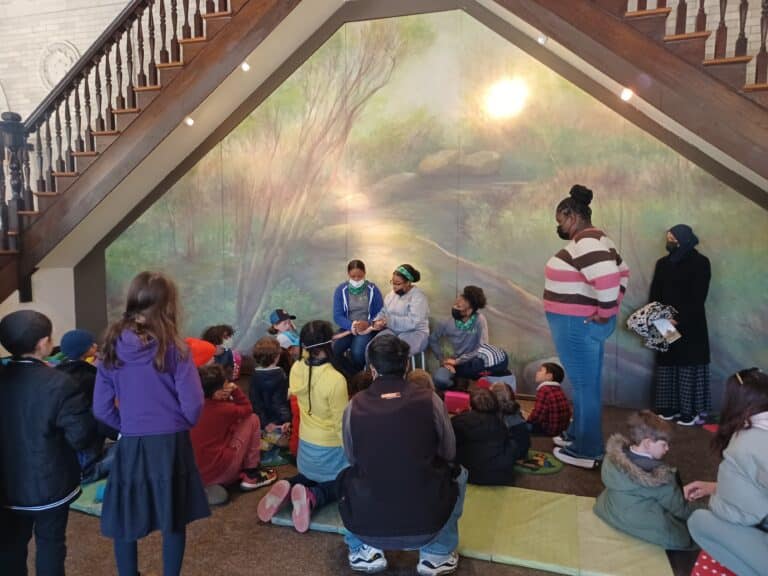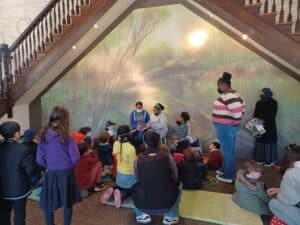 Park Youth Representatives teaching youth about the Audubon Center's Albino Rat Snake as part of the center's weekly 'Nature Exploration' and 'Animal Encounters' activities at the Audubon Center. Photo courtesy of Camilla Wilson, Prospect Park Alliance, Public Programs Manager.
The Audubon Center's 2022 weekend programming ends on November 27, so make sure to stop by soon to see the Park Youth Representatives in action. The Audubon Center will be open during Public School Holidays through February, with the exception of November 24 + 25 and December 25 + 26.