c. Kate Abrams, Prospect Park Alliance
Summer Success for 2022 Woodlands Youth Crew
September 14, 2022
This summer, a familiar sight graced the park—the Prospect Park Alliance Woodlands Youth Crew, hard at work during the months of July and August. This beloved youth employment program provides teens with employment, training, mentorship and professional experience in environmental conservation and park stewardship. With many previous crew members recently aged out and graduated from high school, this year's crew welcomed a largely new batch of teens from 10 local high schools.
"We had members of the crew with some work experience in this area, but for the most part, the work they did this summer was very new to them," says Kate Abrams, Prospect Park Alliance Youth Program Manager & EcoZone Gardener who manages the crew. The 13 crew members and two supervisors, veteran Woodlands Youth Crew members Phil Lubrun and Victoria Henry-Harriott, worked in the heavily wooded Ravine, focusing on invasive species removal and erosion control along the park's watercourse. This year's crew also participated in a work exchange with the Gowanus Green Team members from the Gowanus Canal Conservancy, inviting them to don waders for phragmites removal in Prospect Park, and traveling to the Canal to learn about the propagation of herbaceous native plants.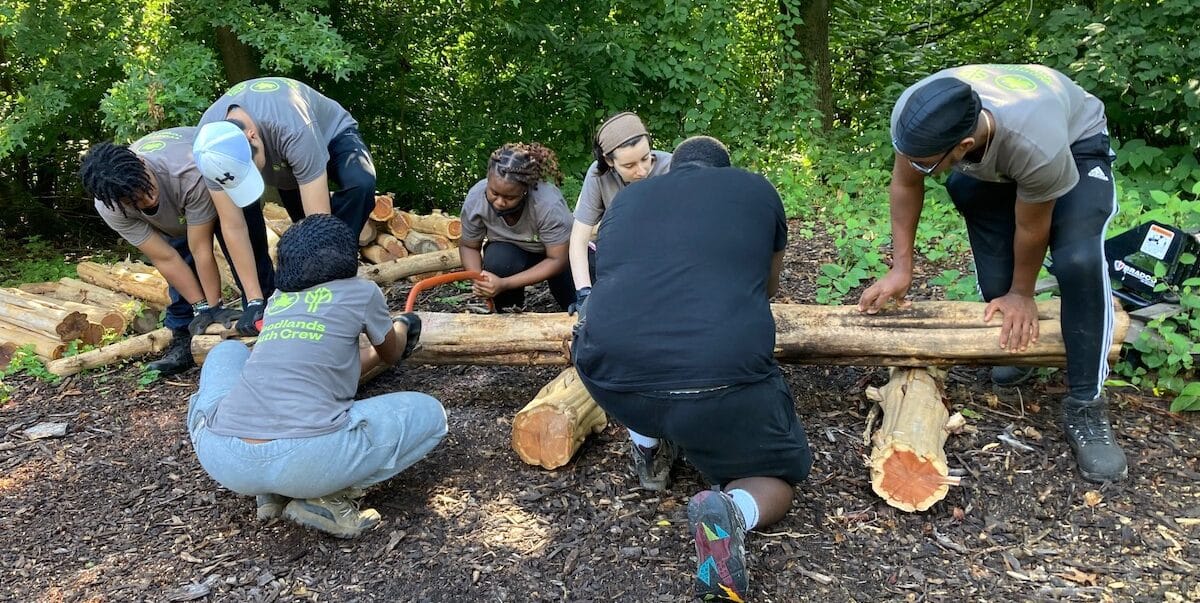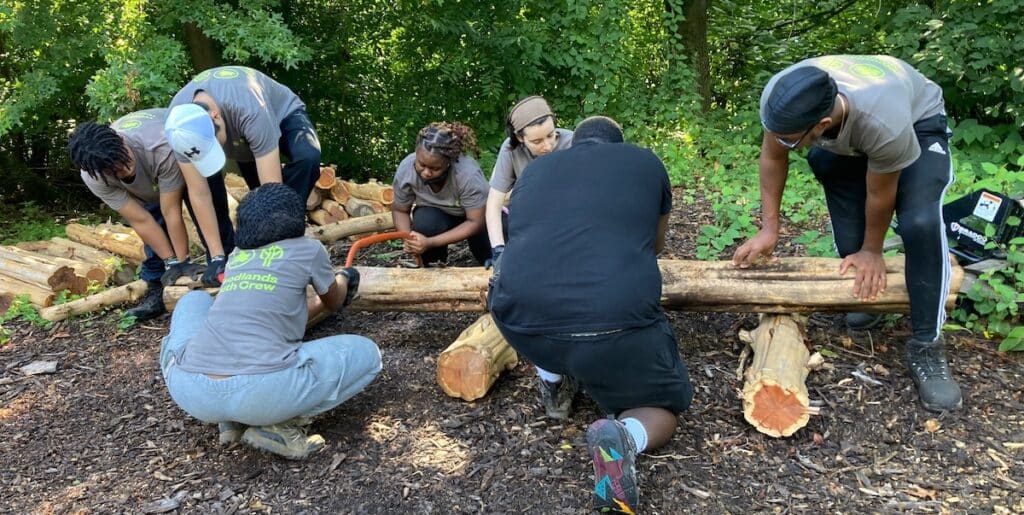 Members of the 2022 Woodlands Youth Crew hard at work in Prospect Park. c. Kate Abrams, Prospect Park Alliance
The Woodlands Youth Crew is an essential part of the Alliance's work to restore and sustain Brooklyn's last remaining forest. The program, which offers spring, summer and fall sessions, is team-based with a focus on collaboration. This year's group got a chance to build new relationships and conservation skills during their time in Prospect Park.
"There were some on the crew that loved taking out the invasive trees, some loved using the handsaw…just seeing the evolution of every person on the crew was great. Over time I watched them taking initiative with the work, applying their new knowledge, and they started to run themselves in a way," says Abrams.
By the end of the program, Woodlands Youth Crew participants gained skills in native and invasive plant identification, teamwork and communication; and developed their interest in nature in general, reports Abrams.
"I loved working with this group," says crew member Max Piatetsky. "Not only did they make work that much more fun, but the things I learned from them and the memories we made will last for a long time."
"The Woodlands Youth Crew was an opportunity to do something concrete to help the park while learning more about its plants and forest ecology," says fellow crew member Isadora Davis. "My favorite part was learning how to identify different plants, and what their roles were in the ecosystem."
"There were a lot of great moments," says crew member Sam Klein Stearns. "I found myself quickly engulfed in an incredible community of all around great people."
The Woodlands Youth Crew recruits new members during the spring season—learn more about the program.
The Woodlands Youth Crew receives substantial support from NewYork-Presbyterian Brooklyn Methodist Hospital, with additional generous funding from the William C. Bullitt Foundation, Gray Foundation, Lavelle Family Foundation, and Zeldin Family Foundation.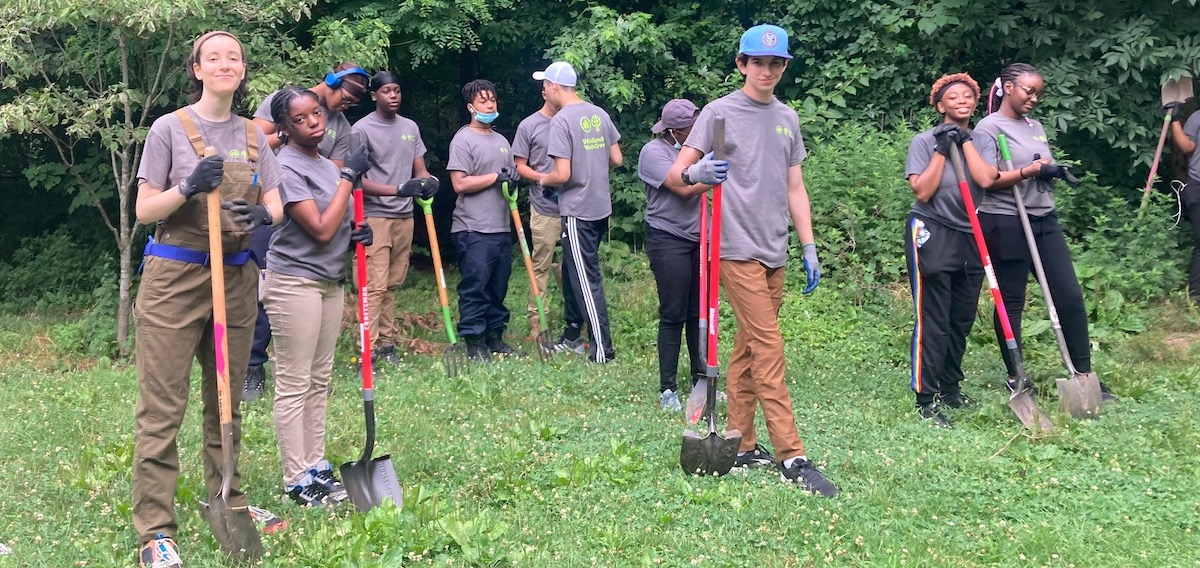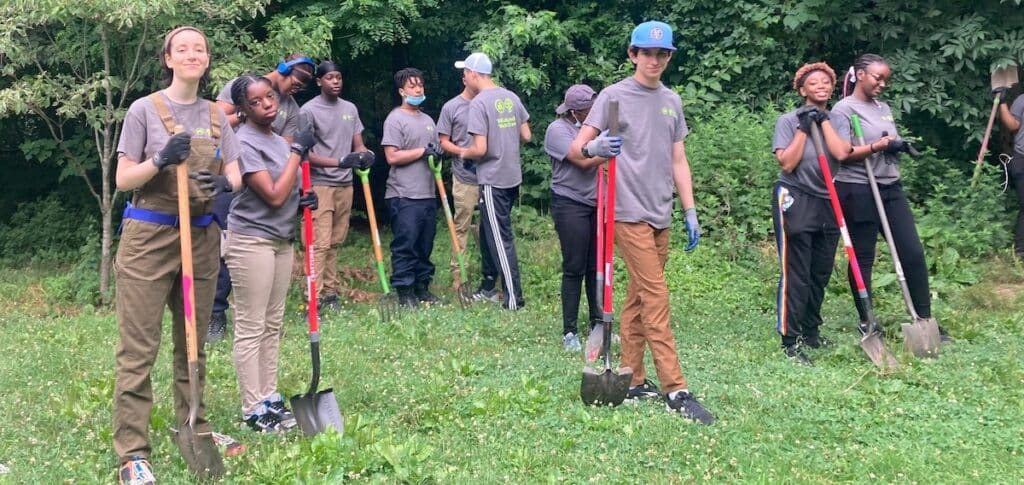 Members of the 2022 Woodlands Youth Crew. c. Kate Abrams, Prospect Park Alliance