New Dog Run Opens In Prospect Park
July 6, 2020
Today, Prospect Park Alliance joined elected officials and community members for a "pawsome" occasion for Brooklyn's Backyard's four-legged friends. Brooklyn Borough President Eric Adams, Council Members Brad Lander and Dr. Mathieu Eugene, Prospect Park Alliance VP of Capital, Christian Zimmerman, and representatives from the Kensington Dog Run Association, Community Board 14, and FIDO cut the ribbon on the new Kensington Dog Run at the Prospect Park Parade Ground.
Get directions to the new Kensington Dog Run. 
The dog run, located in the Parade Ground along Coney Island Avenue, includes 7,000 square feet of fenced-in space, separated areas for large dogs and small dogs, and features an innovative canine-friendly turf, a first for a New York City park. The surface is low maintenance and durable, and boasts superior drainage thanks to a porous backing which allows rainwater and dog waste to flow through the material. The turf also incorporates an antimicrobial agent woven into its fibers that reduces the need for detergents or deodorizers.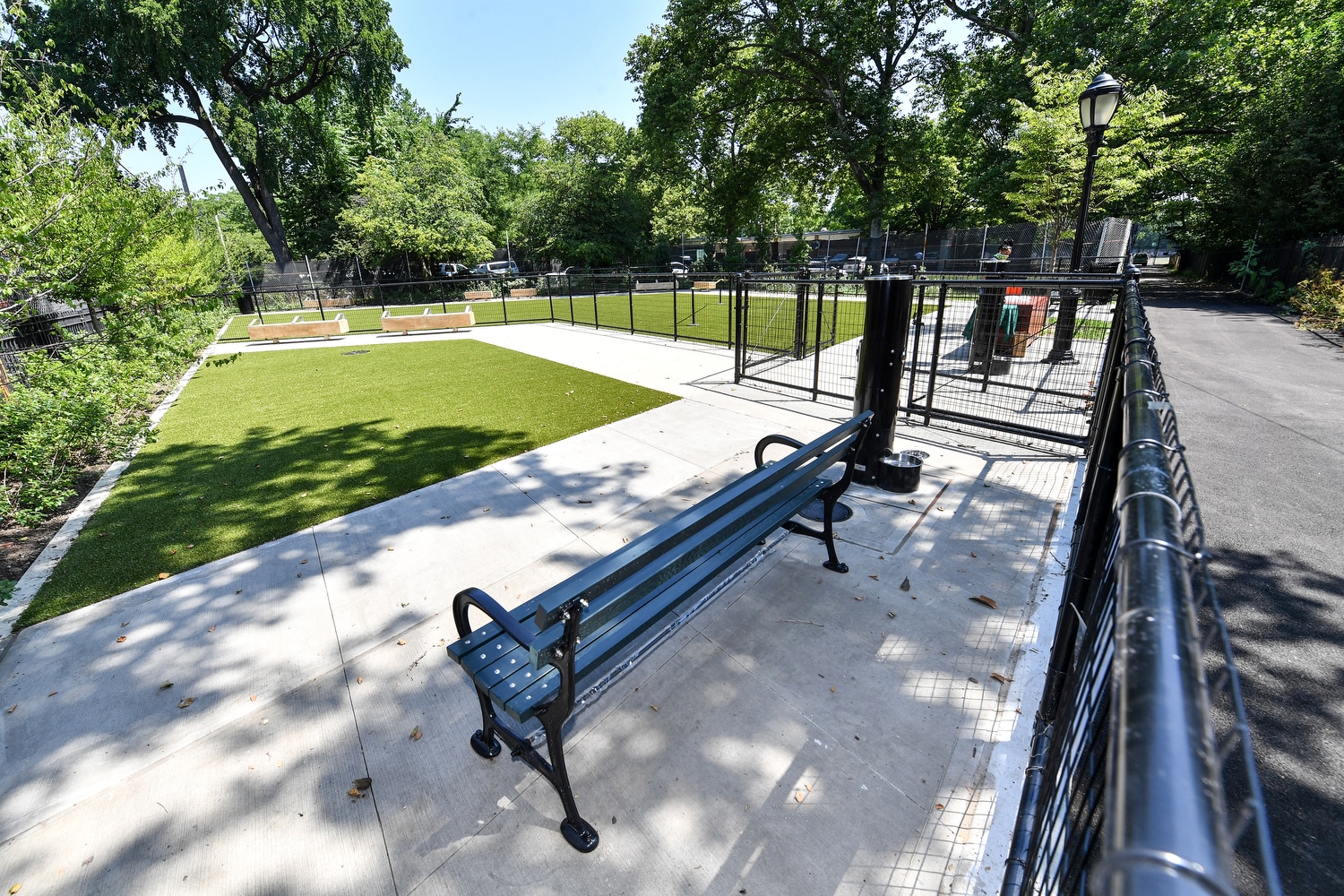 The dog run also features benches made of reclaimed wood from downed park trees. Additional enhancements include waste receptacles, water fountains and new plantings of trees and dog-waste-resistant shrubs. The $405,000 project was funded by Borough President Adams and City Council Members Lander and Eugene, advocated by local groups Brooklyn FIDO and the Kensington Dog Run Association, and designed and project managed by Prospect Park Alliance. The Kensington, Windsor Terrace, Ditmas Park, Flatbush and Midwood areas are home to about 20,000 canines, according to a 2015 report by the NYC Department of Health. The project reached completion in timing with the lifting of the city-wide closure of dog runs due to COVID-19.
"Prospect Park Alliance is excited to share this new destination with the canines in our community," said Sue Donoghue, President of Prospect Park Alliance. "In under a year, we have transformed this space into a state-of-the-art amenity for dogs and their owners to enjoy. This is exactly what our community needs right now, and with dog runs reopening citywide, the timing couldn't be better."

"The new Kensington Dog Run is a testament to what our community can achieve when it comes together over a shared interest, like providing a space for our canine companions to enjoy. I was so proud to work with my colleagues in government and the local community to help fund this project through the participatory budgeting process. Amid an unimaginably difficult period for our city, it's a small — but powerful — reminder that empowering communities at the grassroots level can deliver results," said Brooklyn Borough President Eric Adams.
"I want to thank the Prospect Park Alliance, led by President Sue Donoghue, my colleagues in government, and members of the  Kensington Dog Run Association for their advocacy on behalf of this wonderful new green space," said Council Member Dr. Mathieu Eugene. "I have been working for many years to allocate funding for initiatives that revitalize and improve the Prospect Park Parade Grounds for present and future generations of New Yorkers. This project in particular is of immense importance to the pet owners who reside in this area because it provides them with a safe and protected setting to enjoy leisure time with their pets. I know that residents are extremely excited about this addition to the neighborhood and are eager to use it. The Kensington Dog Run represents an investment in this community that promotes a healthier living space for everyone, especially during the current public health crisis we are facing. I am honored to be a part of the community partnership that made this dog run a reality, and I am looking forward to supporting similar endeavors in the near future."
"Congratulations to the Kensington Dog Run Association who championed this project through the participatory budgeting process, and to the Parks Department and Prospect Park Alliance for successfully getting this project done on schedule to provide timely relief for cooped up pups," said Council Member Brad Lander. "The Kensington Dog Run won't protect us from COVID, advance racial justice, or make our community safe for all. But it felt pretty great to cut the ribbon this morning and remember that democracy can deliver public goods that transform our neighborhoods based on grassroots vision."
"It's a win for the community, and a win for the dogs too! Pups deserve open space, and now more than ever, it is a joy to celebrate a new space for our dogs to run, play, and do their business too," said NYC Parks' Brooklyn Borough Commissioner Martin Maher. "This brand new dog run is a reflection of the community advocacy including Community Board 14, the Kensington Dog Run Association and FIDO, as well as our elected officials. A special thanks to our partners at Prospect Park Alliance for the fantastic design and project management to bring this new amenity to life."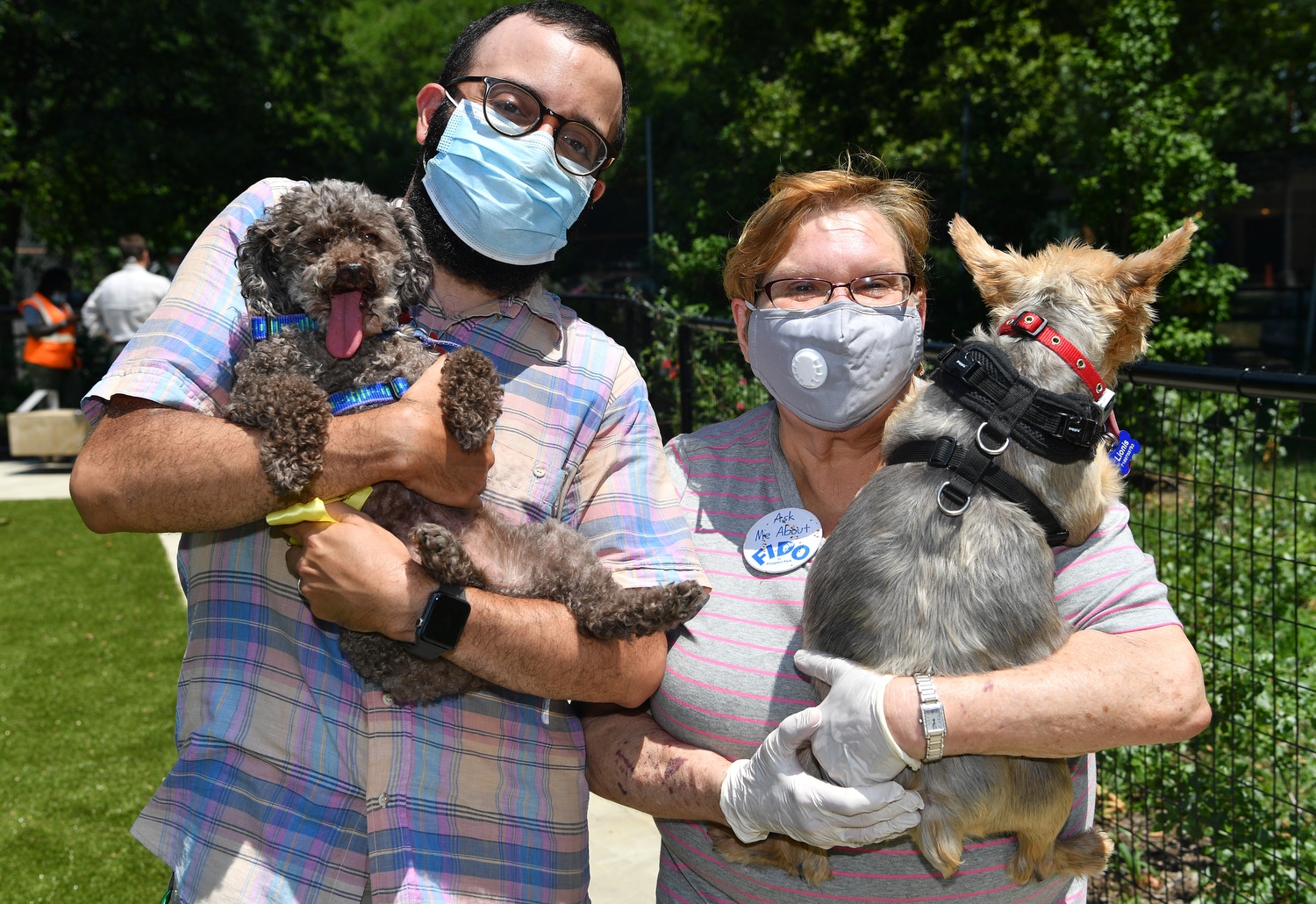 "The Kensington Dog Run is the result of several years of advocacy by our neighbors," said Salvatore Garro, President, Kensington Dog Run Association. "The Kensington Dog Run Association banded together over our shared love of dogs and community. We engaged with our leaders and proudly campaigned for our four-legged friends who needed a place to play, exercise, and have fun. We are truly impressed by the beautifully executed design by Prospect Park Alliance, and we are forever grateful for the funding provided by our Council Members through the Participatory Budgeting process, as well as the Brooklyn Borough President. This park encapsulates community and will forever be an example of what civic engagement can achieve."
In addition to the dog run, Prospect Park is a haven for dogs, offering acres of green space for off-leash hours (5 am–9 am and 9 pm–1 am) at the Long Meadow (except ballfields), Nethermead and the Peninsula. Dogs can also beat the heat and go for a swim at the beloved Dog Beach, which the Alliance restored in 2017. Learn more at prospectpark.org/dogs.