New Entrances for Prospect Park
September 19, 2019
Today, NYC Parks Commissioner Mitchell J. Silver, FAICP, and Prospect Park Alliance President Sue Donoghue celebrated the start of construction of new entrances to Prospect Park along Flatbush Avenue, the first new entrances to the park since the 1940s. With overwhelming support from the community, Prospect Park Alliance received $3.2 million in funding from Mayor Bill de Blasio for this project through NYC Parks'  Parks Without Borders initiative, which seeks to make parks more open by improving entrances, transforming underutilized areas and creating vibrant public spaces. 
"For the first time in more than seven decades, we're giving New Yorkers a new way to enter one of the City's most beloved parks," said NYC Parks Commissioner Mitchell J. Silver, FAICP.  "Thanks to the Mayor's investment in Parks Without Borders we are changing the way parks intersect with the communities, and increasing accessibility. Upon its completion, this new entrance into Prospect Park will be a gateway for generations of families to come in and explore everything this historic park has to offer."
"Prospect Park Alliance is committed to making Prospect Park open and accessible to all communities it borders," said Prospect Park Alliance President Sue Donoghue. "I want to thank Mayor Bill de Blasio and NYC Parks Commissioner Silver for their innovative Parks Without Borders initiative, and the many community members who came out in support of this project. These new entrances will serve as an important gateway to the park for our east side communities, and to the park's northeast corner, a focal point of our future restoration efforts."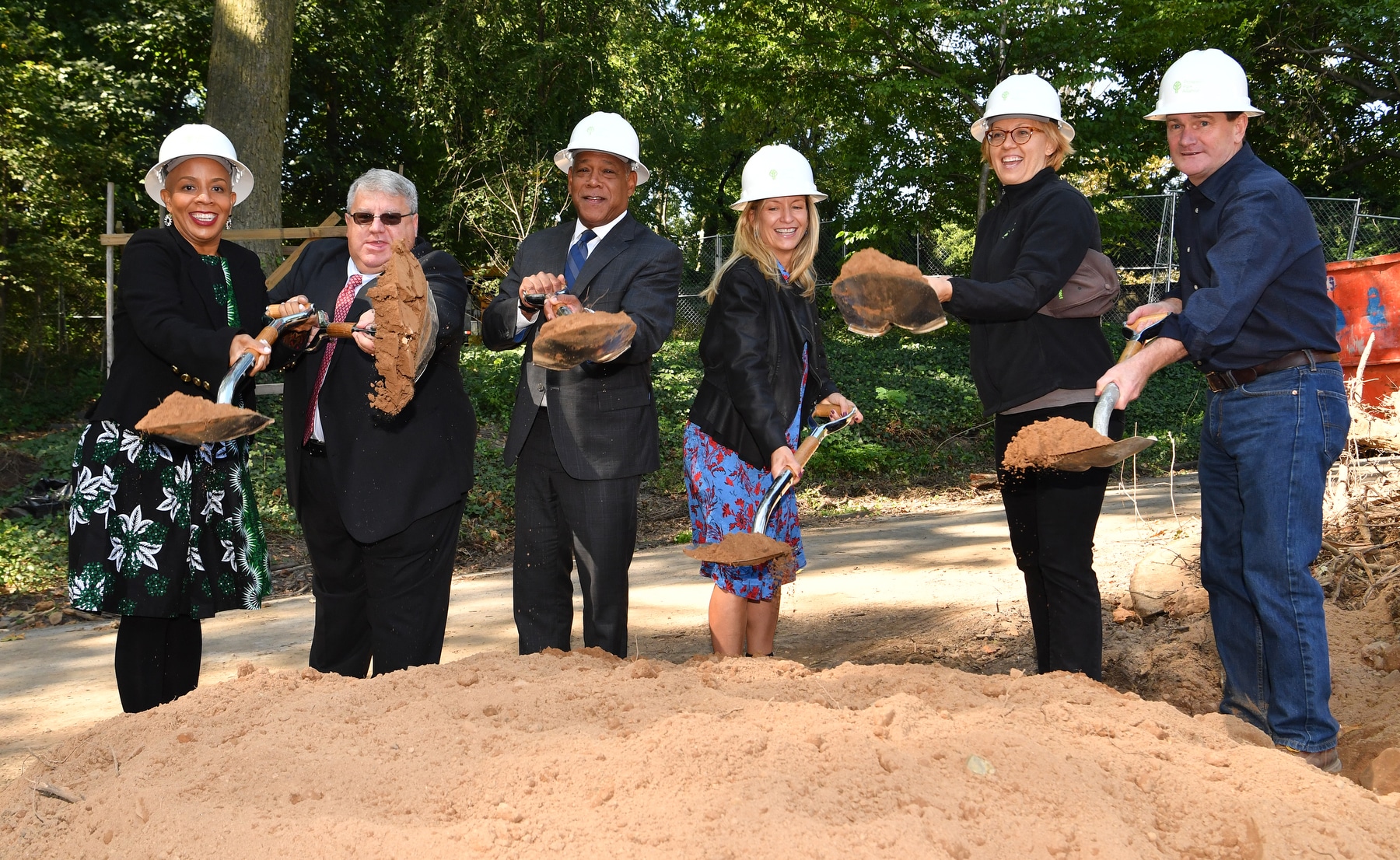 From Left: City Council Majority Leader Laurie Cumbo, Borough Parks Commissioner Martin Maher, Parks Commissioner Mitchell Silver, Alliance President Sue Donoghue, Alliance Landscape Architect Svetlana Raguliana, Alliance VP of Capital and Chief Landscape Architect Christian Zimmerman
"The Parks Without Borders project on Flatbush Avenue perfectly complements my administration's multi-million dollar investment in revitalizing the eastern and southern borders of Prospect Park, the crown jewel of our borough's open space," said Borough President Eric L. Adams. I am excited to see us progress toward increased access for recreation and relaxation opportunities, which will offer a safe and welcome entrance for pedestrians, cyclists, skaters, and anyone who wants to enjoy the park."
"After many years of advocacy by the community, we finally broke ground on the two new entrance ways for Prospect Park on Flatbush Avenue, and are looking forward to improvements of the park perimeter on Flatbush, Ocean, and Parkside Avenues," said Council Majority Leader Laurie Cumbo. "For the first time in over 70 years, Prospect Park will be renovated with new entrances featuring welcoming sitting spaces, a rock-scrambling trail and much more. As a community dedicated to excellence and culture, our public spaces should reflect those high standards of upkeep, beauty, and community. We're so excited to be a part of the preservation and beautification of Brooklyn's flagship park! The crown jewel in the Borough of Kings. Looking forward to the opening in the summer of 2020! "
"Excited to see Prospect Park open its doors wider and create more welcoming spaces. I'm grateful to the Mayor's office for investing in making the park more accessible and glad to contribute to preserving and strengthening the long tradition of horseback riding in the Prospect Park," said Council Member Brad Lander.
"I want to commend the NYC Parks Department, the Prospect Park Alliance, and Mayor Bill de Blasio for their advocacy on behalf of Prospect Park," said Council Member Mathieu Eugene. "We are so privileged to have such a wonderful green space in our borough, and I am delighted that by working together, we are going to make Brooklyn's Backyard even more vibrant and accessible for the next generation of New Yorkers. I am proud to support the Parks Without Borders initiative because it is an investment in the future of our city. We will be transforming the entrances of Prospect Park along Flatbush Avenue into new public spaces for all New Yorkers to use. It is my hope that through this initiative we will continue to improve Prospect Park for years to come." 
Background on the Project 
A major entrance will be created in the northeast section of the park near the park's former Rose Garden, the site of future restoration efforts by the Alliance, and a minor secondary entrance will be created just north of the Prospect Park Zoo. The entrances will feature new lighting, seating and trees, as well as new plantings. The major entrance will align with a future DOT traffic signal and pedestrian crosswalk, intersecting a berm retained by a three-foot-high granite wall. This will open onto a small public plaza with two levels of terraced seating that provides views of the surrounding woodlands. Stepping stones will lead to an informal running trail atop a berm. The plaza will also feature a rock scramble of boulders sourced from the building site of nearby NewYork-Presbyterian Brooklyn Methodist Hospital. Settees will be installed along the paths and between the boulders. The project is slated to be completed in Summer 2020.
Park designers Frederick Law Olmsted and Calvert Vaux did not intend for entrances to the park along Flatbush Avenue. Their original design included a footbridge crossing above Flatbush Avenue to a reservoir that is located in what is now Mount Prospect Park on Eastern Parkway. Their intent was that pedestrians approaching Prospect Park from the east could walk through the reservoir grounds and then cross by the footbridge over to the park. The connection appears in park plans until an 1874 update of the design, but it was never constructed.
Additional Park Improvements
The creation of these entrances is part of a comprehensive restoration of the Flatbush Avenue perimeter of Prospect Park, which is currently in construction. Through $2.4 million in funding from Brooklyn Borough President Eric L. Adams and Council Majority Leader Laurie Cumbo, Prospect Park Alliance will restore the Flatbush Avenue perimeter from Grand Army Plaza to the Prospect Park Zoo to its original grandeur. Formerly, the narrow, 20-foot-wide sidewalk had few functioning street lights, heavily cracked pavement, sparse and unhealthy street trees, and an incomplete and deteriorating iron fence along the park. Following the original design of the park's creators Olmsted and Vaux, the sidewalk is being expanded into a 30-feet-wide promenade. The Alliance has removed invasive plants that have overtaken the area, and planted trees to create an allée reflecting Olmsted's design. New decorative fencing, lighting and benches will provide a welcoming and inviting pedestrian experience.
Prospect Park Alliance also is undertaking a $9.4 million restoration of the Parkside and Ocean Avenue perimeters and entrance to the park, which is made possible through $6.4 million in funding by the New York City Department of Transportation; $2 million in funding from Brooklyn Borough President Eric L. Adams; and $750,000 in funding from New York City Council Member Dr. Mathieu Eugene. This large-scale restoration will include new sidewalks and paving; new historic lighting and street furniture; new trees and landscaping; and the addition of a protected bike lane. A focal point of the entrance will be a new monument to Brooklyn political trailblazer U.S. Rep. Shirley Chisholm, who was both the first black Congresswoman and the first woman to seek the Democratic presidential nomination. This project continues the Alliance's work to restore the perimeter of the east side of the park, including the Flatbush Avenue perimeter, which is also being funded by the Borough President, as well as Council Member Laurie Cumbo. 
The Alliance is also in the early phases of planning the restoration of the park's northeast corner, which will be accessible from the new entrances. In 2017, Prospect Park Alliance commissioned Hester Street, a non-profit organization that works to ensure neighborhoods are shaped by the people who live in them, to engage the communities on the east side of the park and seek their vision for this future project. Based on the feedback of the community, the Alliance is currently in the early phases of planning for the future redesign of this space. 
Additional capital improvements slated for this area include $2 million in funding from the Office of Mayor Bill de Blasio to enable the Alliance to restore approximately 1,200 linear feet of paths, replace park benches and add more lighting in the park's northeast corner. In addition, Prospect Park Alliance is creating a covered horseback riding ring north of the Prospect Park Zoo for public and therapeutic riding. This $4.1 million project is funded through the support of former New York City Council Speaker Melissa Mark-Viverito, Brooklyn Borough President Eric L. Adams and New York Council Member Brad Lander. 
For more information about capital improvements in Prospect Park, visit our capital projects tracker.