New Prospect Park-Inspired Poetry
November 8, 2022
Six new poems inspired by Prospect Park are the result of Prospect Park Alliance's partnership with Writing the Land, which connects poets with land set aside for people and nature. The partnership fosters collaboration between the environmental and creative communities.
Earlier this year, Prospect Park Alliance commissioned three poets to produce work about Prospect Park and share their work with the Brooklyn community: Black poet Rachelle Parker and Native American poets Michaeline Picaro and Opalanietet. The recently published anthology, Writing the Land: Windblown I, features their work and was celebrated at a reading at the Prospect Park Boathouse in October. Poets from across the country joined Prospect Park Alliance to read poems and discuss relationships among the communities and lands of Prospect Park, the arts and the environment as a whole.
"Partnerships with urban lands are new for Writing the Land, and we are thankful to Prospect Park Alliance for being such accommodating and generous hosts," says Writing the Land Director Lis McLoughlin, PhD. "Our reading at the Boathouse was an extraordinary opportunity to bring attention to the importance—for city-dwellers and for visitors—of lands set aside for people and nature. We had a great time reading in this gorgeous place, and were grateful to experience firsthand Prospect Park as a welcoming haven for people to connect with nature in the midst of the city."
This partnership is a stage for diverse voices to engage in a dialogue about the park and its history, an important part of Prospect Park Alliance's community engagement work. The collaboration, while embracing the park as a whole, connects to the Alliance's ReImagine Lefferts initiative, which seeks to re-envision the mission and programming of the park's historic house museum to recognize its role as a site of slavery and to elevate the voices of the enslaved Africans who lived and worked the land, and the Indigenous people who were forced to leave their ancestral lands at the time of Dutch colonization.
"Our partnership allowed us to leverage the power of poetry to share perspectives on the lands that we sometimes take for granted," says Maria Carrasco, the Alliance's Vice President of Public Programs. "Poetry is a form of activism and has the ability to be healing and transformative. It can pose difficult questions, offer new perspectives on the world and help establish a sense of community. Joy Harjo, the first Native American United States Poet Laureate, expressed that 'everyone's behavior, or story, affects everyone else…we each need to be able to tell our stories and have them honored.' Honoring experiences can lead to healing; that in turn, can forge friendships, partnerships and collaborations based on telling authentic stories from the past and present."
Black poet Rachelle Parker and Native American poets Michaeline Picaro and Opalanietet spent several months visiting Prospect Park and creating poems inspired by the land—reproduced below. Each poet brings a unique perspective to their work and approach to Prospect Park.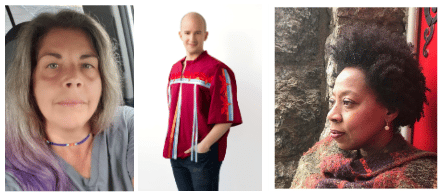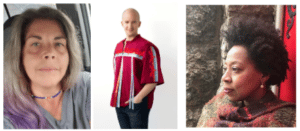 From left to right: Michaeline Picaro, Opalanietet, Rachelle Parker
Michaeline Picaro, Opalanietet and Rachelle Parker's work about Prospect Park and the full Writing the Land; Windblown I anthology can be previewed and purchased online at writingtheland.org.
Free Land Exists in Brooklyn
By Opalanietet
A land birthed free, sculpted by Creator
Utilization of ice pick, remnants of glacial ridge still seen
This land that still is Lenapehoking.
We give thanks to the Marechkawieck, we give thanks to the Canarsee
Which without their stewardship, this oasis never could have been
This land that still is Lenapekhoking.
Freedom is to roam, freedom is to play, freedom is to choose to stay
To be free with this land, we have no landlord, we have no king, or queen
This land that still is Lenapehoking.
Stolen, divided, quarantined for privatized use
Reconfigured, reimagined, a public space so green
This land that still is Lenapehoking.
A Damselfly Is Not A Lady Dragonfly
By Rachelle Parker
They are their own kind.
Gliding across lakes. With their
own moms and dads, children.
Pretty. Wings iridescent. Knitted.
Delicate. Filigree. Whizzing
between boys and girls with
popsicles whose own wings are knotted
under skin the color of rasped
nutmeg wait to unfurl, soar,
catch sun, become heart
shaped and moms and dads with children,
dart, scuffle, stay safe
and alive amidst the genus,
amidst the skittishness.
We are Still Here
By Michaeline Picaro
We are still here
We are still here.
Not all are tucked away like parks in cities.
Close- knit, core communities and dispersed afar in cities block.
Outdated History needs correction, NY, NJ, CT, MA, RI, we are still here.
Cities subjugate nature into insignificant pockets, it is still here.
Minuscule compared to its former honor, tucked away awaiting the unexpected wanderer.
They visit, enjoy or study, unearthing teachings of heart and spirit.
Nature is still here. We are still here, with teachings of heart and spirit.
We Native Americans are synergistic, onto parks of nature.
We are not gone, we are Resilience!
One of many Nations, Ramapough  Lenape Nation
We are still here.