c. Still from "Chisholm '72" from Realside Productions
A Monument to a Trailblazer Comes to Prospect Park
November 30, 2018
On U.S. Representative Shirley Chisholm's birthday and the 50th anniversary of her election to Congress, Prospect Park Alliance President Sue Donoghue joined First Lady Chirlane McCray and Deputy Mayor Alicia Glen in Prospect Park to make a momentous announcement.
The group held a press conference at the Parkside and Ocean Avenue entrance to the Park to announce that a monument to Representative Shirley Chisholm, the political trailblazer who was both the first black Congresswoman and the first woman to seek the Democratic presidential nomination, will be erected at that location, where the Alliance is undertaking a significant restoration as part of our work improving the Park's eastern perimeter.
"As Brooklyn's Backyard, we are deeply honored to welcome this important monument to a true Brooklyn hero, Shirley Chisholm," said Sue Donoghue, president of Prospect Park Alliance, the non-profit that sustains Prospect Park in partnership with the city. "We thank the Mayor, First Lady Chirlane McCray and the Department of Cultural Affairs for selecting Prospect Park as the site for this commemoration, which will serve as a critical focal point of our restoration of the Parkside and Ocean Avenue entrance to Prospect Park."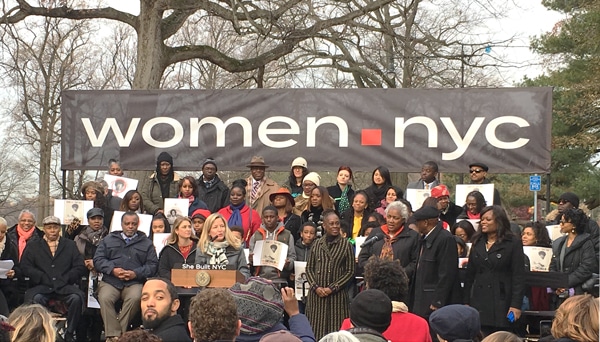 A local hero, Chisholm was the first black Congresswoman in U.S. history, and both a leader and an advocate for residents of Brooklyn and the country at large. Her notable achievements in Congress included working to expand access to food stamps, helping to pass Title IX and extending minimum wage requirements to domestic workers. In 1972, Rep. Chisholm became the first black major-party candidate to run for President of the United States. This is the first monument commissioned as part of She Built NYC, an initiative that sought public nominations to honor the New York City women who have changed history.
"Congresswoman Shirley Chisholm's legacy of leadership and activism has paved the way for thousands of women to seek public office," said First Lady Chirlane McCray. "She is exactly the kind of New York woman whose contributions should be honored with representation in our public spaces, and that is now being realized with She Built NYC."
 
"Shirley Chisholm was an American original—a fearless trailblazer who broke barriers and had an unrivaled commitment to justice," said Alicia Glen, Deputy Mayor for Housing & Economic Development. "From standing up to Congressional leadership to taking bold bipartisan action, Rep. Chisholm made sure everyone knew she was 'unbought and unbossed.' There is no one more deserving than Rep. Chisholm of a statue honoring her life and legacy; may New Yorkers of all backgrounds be inspired by her story."
The site of this monument will serve as a critical focal point for the Alliance's $9.5 million restoration of the Parkside and Ocean Avenue perimeters and entrance to Prospect Park, which includes $6.7 million in funding by Mayor de Blasio, $2 million in funding from Borough President Eric L. Adams, and $750,000 in funding from Council Member Mathieu Eugene. This large-scale restoration by the Alliance will include new sidewalks and paving, new historic lighting and street furniture, the planting of new trees and the addition of a protected bike lane. 
As the steward of Brooklyn's Backyard, Prospect Park Alliance is deeply honored to welcome this important monument to a true Brooklyn icon. Read more about this announcement from the Mayor's office.