Northeast Path Work Now Underway
November 10, 2020
Through $2 million in funding by New York City Mayor Bill de Blasio, Prospect Park Alliance is restoring pedestrian paths in the northeast corner of Prospect Park to make the area more accessible to the communities who use the park. This project includes the reconstruction of approximately 1,200 linear feet of paths, new park benches and new lighting, much-needed tree care and the replacement of the play sand in the Zucker Natural Exploration Area. The work is underway now and will be complete in the summer of 2021.
For the duration of the work, please be aware that portions of the paths and adjoining areas will be closed off for park-goers safety—as a result visitors may need to plan alternative routes in the area. We appreciate your patience and flexibility as we complete this essential work.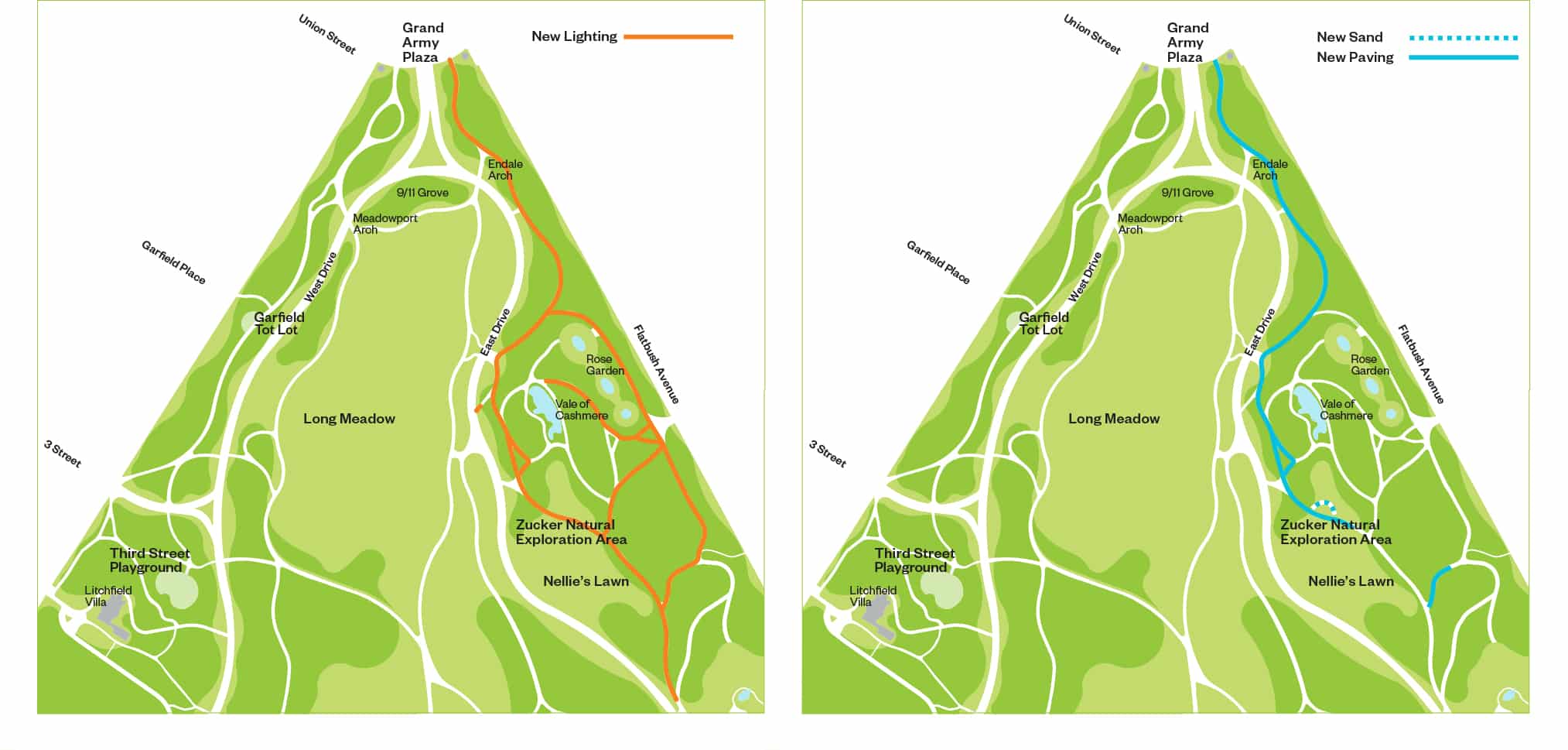 Map of area indicating paths that will receive new lighting (orange), new sand (blue dots), and new paving (solid blue). c. Prospect Park Alliance
This work is part of a larger effort by Prospect Park Alliance to improve the northeast corner of the park. The reimagining of this area also includes the historic restoration of the Endale Arch, funded by the Tiger Baron Foundation with additional support from Council Member Brad Lander through District 39 participatory budgeting; restorations of the Vale Woodlands through a grant from New York State Parks; the Grand Army Plaza berms and Soldiers and Sailors Arch, funded by Mayor Bill de Blasio; the Flatbush Avenue perimeter, funded by Borough President Eric L. Adams and Council Majority Leader Laurie Cumbo; two new entrances along Flatbush Avenue, the first in the park since the 1940s, funded by Mayor Bill de Blasio's Parks without Borders initiative; and pathway and lighting improvements in the Vale, funded by Mayor Bill de Blasio.
Learn more about this and other projects on the Alliance's Capital Projects Tracker: prospectpark.org/tracker.