PPA Profile: Lucie Chin, Halloween Costume and Set Designer
October 27, 2017
Join Prospect Park Alliance at the Prospect Park Halloween Haunted Walk and Fair on October 28, 12–3 pm. Now in it's 38th year, this treasured event draws thousands of people into Brooklyn's Backyard for free, spooky fun. This year, the festivities will continue at the first-ever Prospect Park Halloween After Party, from 2–5 pm, located in City Point in Downtown Brooklyn. Find out more about this year's Haunted Walk and Fair.
For the past 30 years, Lucie Chin has been designing, creating, and directing elaborate "scenes" that come to life along the paths of Lookout Hill during the annual Haunted Walk in Prospect Park. Her famously spooky setups include props, sets, costumes, and a full cast of haunting characters played by Prospect Park Alliance Volunteers. Chin has been involved in all aspects of the walk, "from loading the trucks at dawn to closing the lock on the storage space (lovingly called Igor's Boutique) at sunset", since 1987. A few years ago she handed responsibility for Lookout Hill to others, but has continued to create and maintain the costumes. Now, after three decades, "The Halloween Lady" is retiring.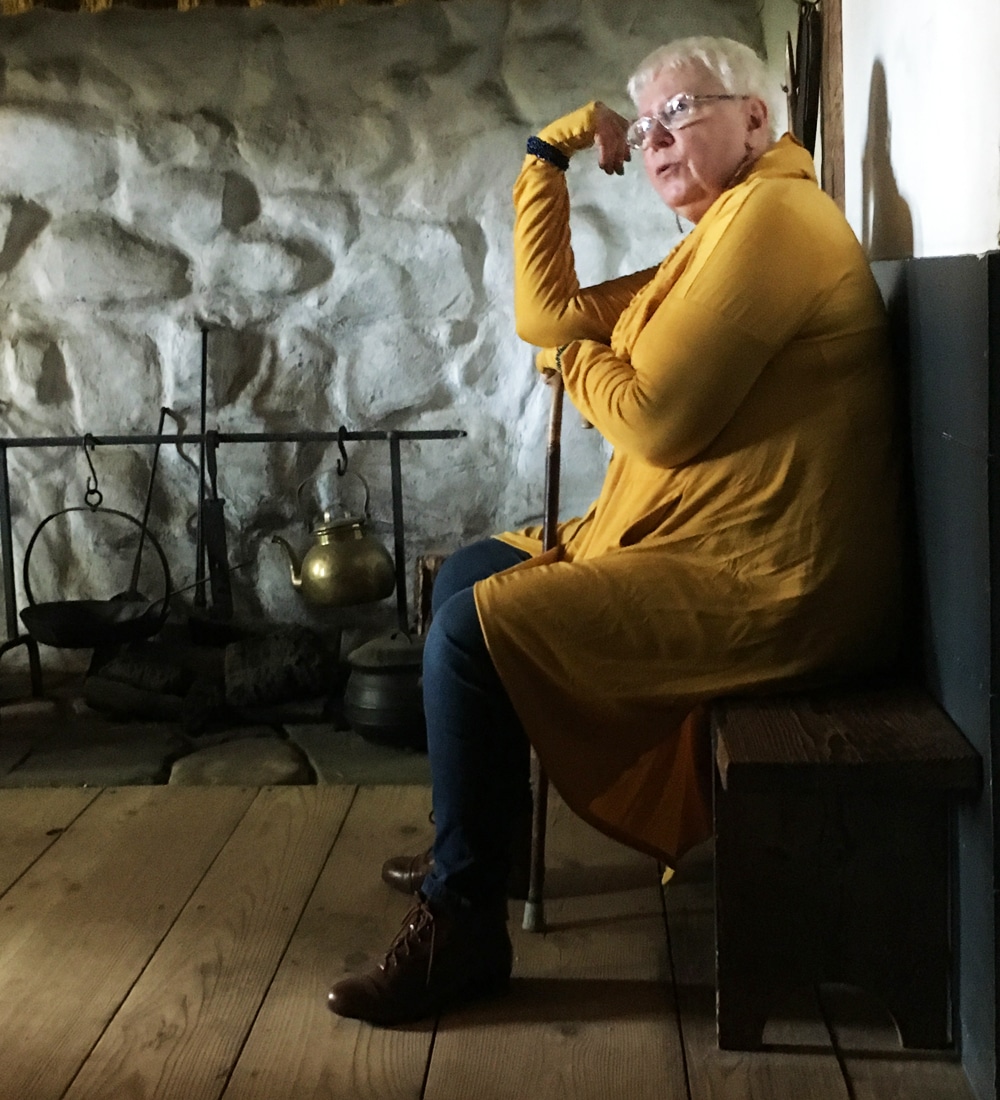 Lucie Chin at her retirement party, 2017. 
When Lucie Chin first started working on the Haunted Walk in 1987, the event took place in Prospect Park's Ravine and the "actors" were primarily Prospect Park Alliance staff and their friends. Since then, the Alliance has transformed the event into a volunteer opportunity, recruiting over 100 volunteer actors each year. The Alliance has also added a Halloween Fair on the Prospect Park Nethermead where all the local ghosts and ghouls can enjoy face painting, puppet shows, and, of course, candy.
In setting a spooky scene, Lucie draws much of her inspiration from the Park itself. From "light filtering through autumn-colored leaves" to "deep shadows under the trees and dust motes dancing in the shafts of light…I can believe the whole Park is just inches away from the mythical" she explains, "you need a real live forest to do that"." When it comes to the magic of the Haunted Walk, Chin feels that being a part of the environment is more important than the "latest horror movies or trends."
"Prospect Park is my Halloween", Lucie says, describing three decades of Halloween memories in Prospect Park. There were moments of panic—Lucie recalls getting locked in Greenwood Cemetery while researching mausoleums for a "Vampire shelter"—and moments of sugar-fueled glee, including a child who hugged every "monster" on the walk because her mother told her "they won't hurt you if you love them."
This Saturday, October 28, will be Lucie Chin's final Haunted Walk. Come out to Lookout Hill from 12-3 pm to experience the walk for yourself!