Catching Up with the Re:New Initiative
October 12, 2021
Back in May, Prospect Park Alliance launched Re:New Prospect Park, a new stewardship effort to help serve our community. The initiative was created to meet the challenges exacerbated by the COVID-19 pandemic—the Alliance and NYC Parks staff have struggled with budget cuts, coupled with a swell of park visitors. Thankfully, our community has stepped up to help in many ways, and there have already been many exciting achievements from the Re:New Prospect Park initiative.
Critical support for this initiative is made possible through generous funding from Amazon, the Leon Levy Foundation, NYC COVID-19 Response and Impact Fund in the New York Community Trust, NYC Green Relief + Recovery Fund, and many generous individuals and community members who made first-time or increased gifts to the Alliance during this challenging time.
Here are some of the highlights:
Park Improvements
The Alliance set out to re-invest in park places, spaces, and amenities, and there have been great improvements in all areas of the park. The Lincoln Road comfort station has received a complete makeover, new barbecues, furnishings and fixtures were installed at the popular Picnic House and Bandshell barbecue areas, new benches have been added to the beloved Drummer's Grove, and broken ornamental brickwork at the historic Boathouse terrance has been repaired.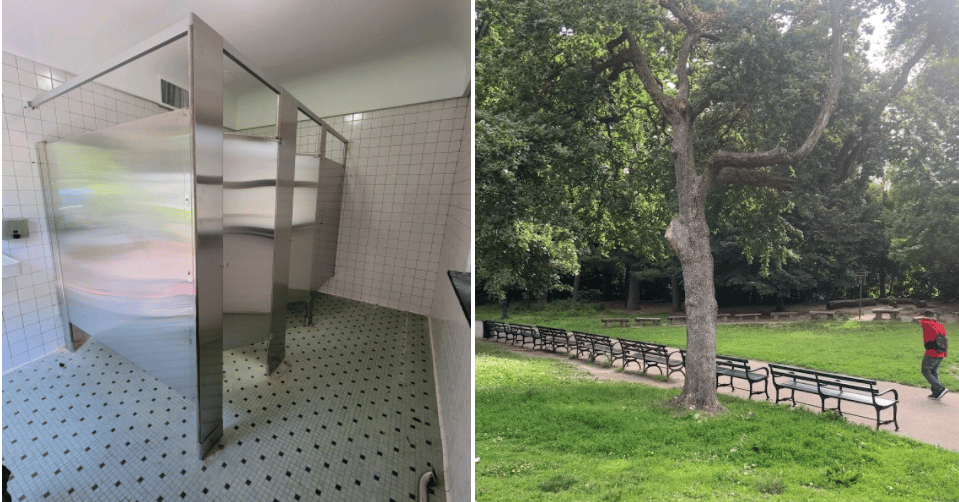 The improved Lincoln Road Comfort Station and the new audience benches at the Drummer's Grove.
Re:New Volunteer Corps
As part of the Re:New Initiative, a dedicated volunteer corps is focused on fixing areas of the park that have seen great wear and tear. On a weekly basis, these volunteers have showed up in the park to repair holes in the meadows, repaint park benches and fences, clean playgrounds and replenish their sandboxes, weed overgrown areas, cover unsightly graffiti and much more. This work could not have been more successful, among other accomplishments, volunteers painted 118 benches, removed 230 bags of invasive weeds, refilled sandboxes, mulched trails and tree beds, and filled hundreds of dog holes in our meadows.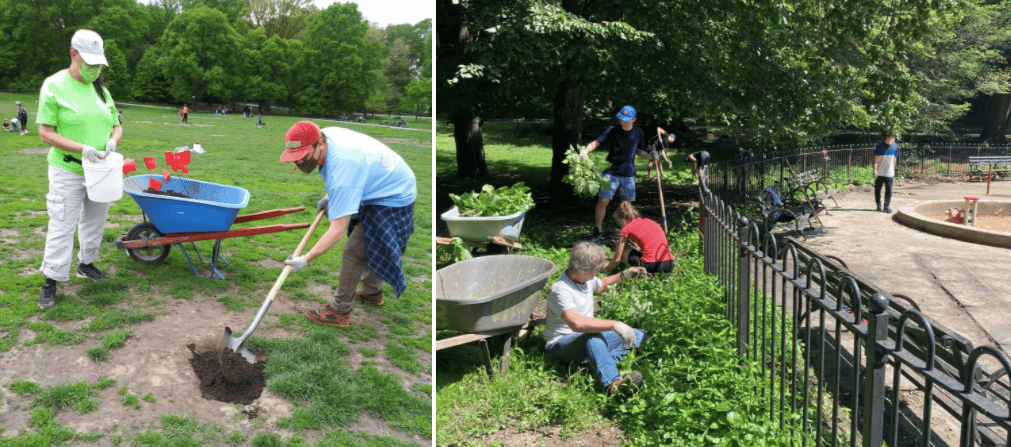 Members of the Re:New Volunteer Corps working to improve the park.
The Re:New Volunteer Corps has many more opportunities coming up, sign up today to lend a hand in Prospect Park!
Park Maintenance
Prospect Park Alliance has partnered with Ace New York, a non-profit that empowers the homeless, to provide additional maintenance resources to help clean the park on peak weekdays and weekend evenings through October. The crew, which is partially funded via a grant from Amazon, has been in the park since April, and will wrap up their time with the park at the end of October.


The ACE Crew in Prospect Park.
Interested in getting involved with the Re:New Prospect Park initiative? Learn more about the ways you can contribute.