Woodlands Youth Crew Completes New Park Trail
September 10, 2021
Visiting the park this fall, you may notice a scenic addition in the heart of our woodlands—a rustic trail just off Center Drive that invites visitors to slow their pace and meander into parts unknown. 
The work to restore this woodland area and create a new trail was work of the 2021 summer cohort of the Prospect Park Alliance Woodlands Youth Crew, one of our signature youth employment programs that provides local teens with employment, training, mentorship and professional experience in environmental conservation and park stewardship. The program was funded this summer through the generous support of NewYork-Presbyterian Brooklyn Methodist Hospital, whose longstanding partnership with the Alliance and essential work during the pandemic will be honored on September 30 at the Prospect Park Alliance Gala.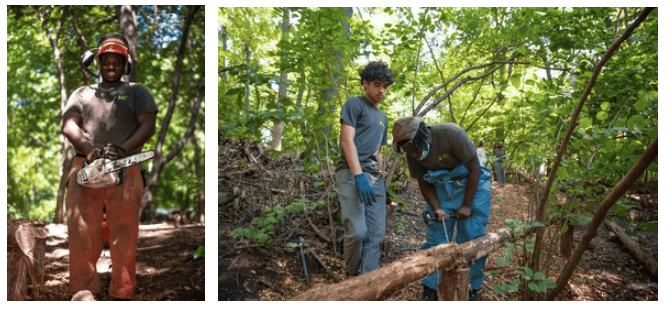 Pictured: at top, Paul Lubrun and Kayla Green; above left, Phil Lubrun, right, Jeshua Figueroa and Paul Lubrun.
The work of the Woodlands Youth Crew is an essential part of the Alliance's work to restore and sustain Brooklyn's last remaining forest. The semicircular route created this summer by the crew features a never-before-seen view of the top of the Lullwater, previously inaccessible to park visitors. "This area was a complete vine-land, with invasive plants everywhere—you couldn't see the water at all," says Kate Abrams, the Alliance Woodlands Youth Crew Manager. "But there is also so much good stuff in here, witch hazels, red maples, oaks and sumacs, and the idea of the trail just came together." 
On a recent summer afternoon, the crew members were proud to point out the work they had done to transform this part of the park. Heaping compost piles were a testament to the volume of invasive vines that the crew had removed, and mulched paths with cedar railings were getting their finishing touches. "We've been getting lots of passersby saying thank you," says Philip Lubrun, a crew member since 2016 who is now back for his second year as a supervisor. "This was my first job, and it comes naturally to me now. I've learned about planting, carpentry, invasive removal—it's opened up a lot of opportunities for me…this is not the type of job you find everywhere." 
"This is a great crew and the teamwork over time is the best thing to see," says Abrams, "hopefully this path opens up possibilities for this area—people already seem to really appreciate it and the kids are really proud of what they've done."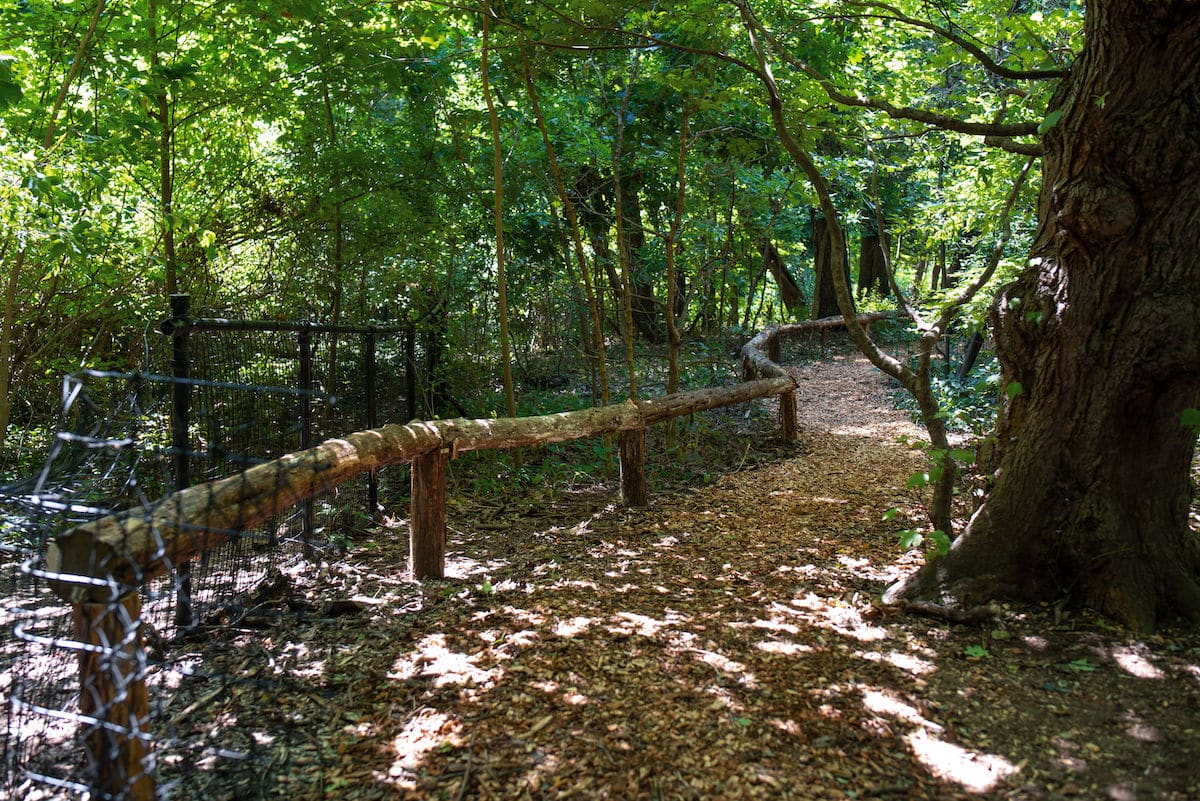 A peek at the new trail, off Center Drive in Prospect Park.
Learn more about Prospect Park Alliance's Woodlands Youth Crew.