Two Rustic Bridges Get a Refresh
July 10, 2023
If you've wandered through the center of Prospect Park in the past few weeks, you may have noticed that two beloved bridges are getting an upgrade. Work is underway to improve Binnen Bridge, originally designed in the late 1870's and located near the Boathouse at Binnen Falls, and Music Grove Bridge, which is located near the Nethermead and was constructed in 1887 in conjunction with the nearby Music Pagoda.
In contrast to the more common stone bridges seen across the park, both the Binnen and Music Grove bridges are rustic structures. Rustic structures were an important part of Frederick Law Olmsted and Calvert Vaux's original design for Prospect Park. Made of wood and other natural materials, these bridges and dozens of other rustic shelters and arbors were constructed using hand tools in the 1870s and 1880s, often from downed park trees, allowing them to seamlessly blend into the park's naturalistic landscape. While all of the park's original rustic structures have been lost to time and natural deterioration, Prospect Park Alliance has reconstructed some of the most significant of these structures over the last few decades.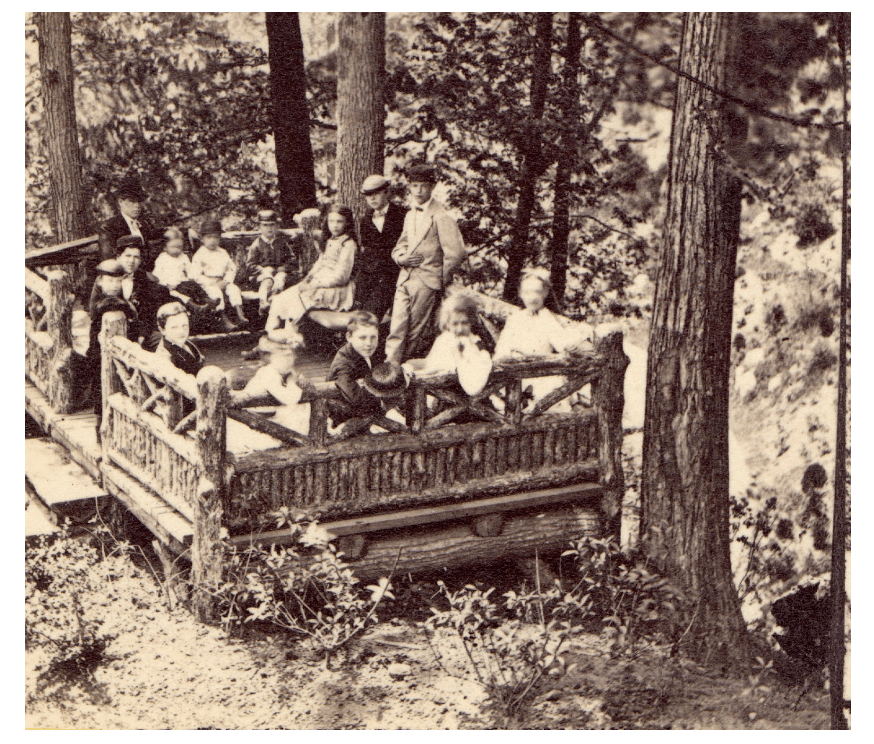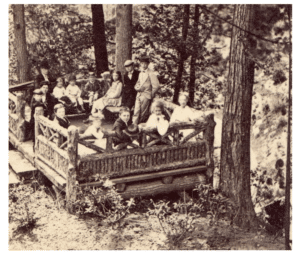 A rustic shelter in Prospect Park's Ravine c. 1885 Prospect Park Archives/Herbert Mitchell Collection
The rich history of these rustic structures harkens to the park's earliest days. Binnen Bridge marks the point where the faster-moving Binnenwater stream meets the Lullwater, the term Olmsted used for the large area of slower-moving water near the Boathouse. Originally made of locust, the bridge has been reconstructed repeatedly from the time of its construction, first with timber and then, in the 1930s, with pipe-rail concrete. Binnen Bridge was fully reconstructed by Prospect Park Alliance in 1997, using historic photographs to recreate the original size and character of the log railings and wooden deck. The reconstruction received an Excellence in Design Award from the New York City Art Commission.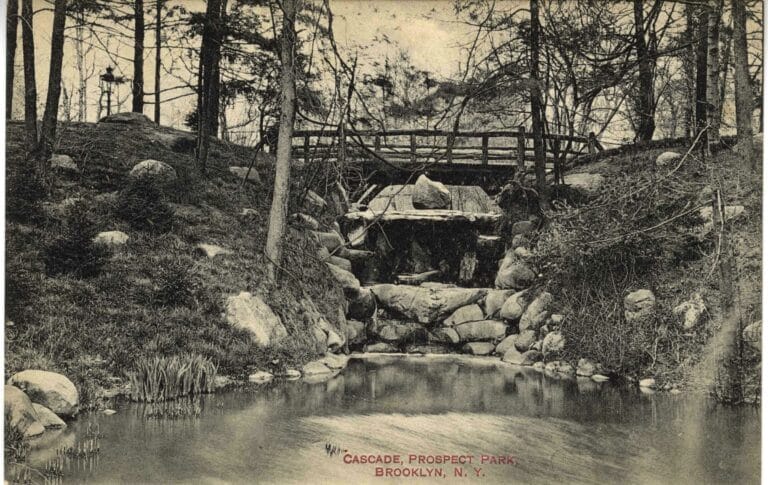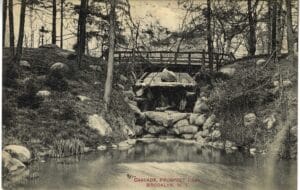 Historic image of Binnen Bridge c. Prospect Park Archives/Bob Levine Collection
Music Grove Bridge was constructed during the creation of the Music Pagoda in the Nethermead in the 1880s. The surrounding area was designed to host large gatherings and open air concerts, and the bridge was built to accommodate foot traffic from the large number of visitors who would travel to the area to hear music under the canopy of London Plane trees. The bridge remains an important access point from the park's northern woodlands.
The New York City Department of Transportation is currently in the process of restoring both the Binnen and Music Grove bridges, and park-goers should expect to encounter detours while this construction is underway. The work  is estimated to be completed in 2023.
Learn more about the Binnen Bridge and Music Grove Bridge restoration and more details on Prospect Park Alliance's current Capital Projects Tracker.