Volunteer Brunch 2018
April 10, 2018
On March 10th, 2018, Prospect Park Alliance held its 30th Annual Volunteer Recognition Brunch. This tradition, which is as old as the Alliance itself, recognizes the outstanding Prospect Park Alliance Volunteer Corps for their dedicated service. New York City Commissioner of Parks and Recreation, Mitchell J. Silver and New York City Council Member Mathieu Eugene joined Prospect Park Alliance Chief Operating and Financial Officer, James Snow and Volunteer Program Director, Jessica Jamhoury, in thanking over 100 individuals and representatives from partnering community organizations for their service. 
At the event, twenty two unique volunteers were presented with awards recognizing their dedication to Prospect Park.  Shirley Osgood received the Alan Thomson award for giving 2,500 lifetime volunteer hours to the Park. Osgood is a member of the ongoing weekday volunteer events and a dedicated horticulture volunteer who can be found in Carmen's Garden, the flower garden in front of Litchfield Villa. She is one of only five Alliance volunteers ever to reach this level of dedication. This year, Prospect Park Alliance introduced the Tyrell Ingram Award to recognize the service of teen volunteers who give over 100 volunteer hours during the year. This eponymous award was presented to Tyrell for setting a standard for future teen volunteers.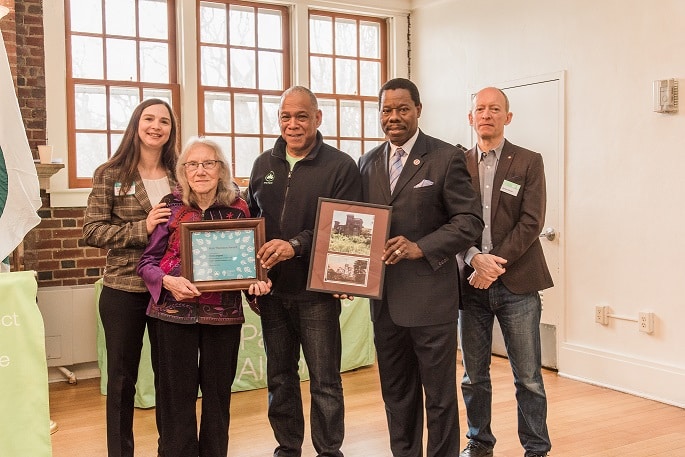 In 2017 over 3,000 volunteers contributed more than 18,000 hours of service in the Park. Volunteers work in all areas of the Park on projects ranging from woodland restoration and horticultural projects to assisting with Education programs, Tennis Center programs, Park Greeters and various office administrative duties. The work of Prospect Park Alliance volunteers is essential and their dedication is evident in every area of the Park.   
Learn more about volunteering in Prospect Park and sign up for one of our upcoming volunteer events.