Jewish Artisans of the Prospect Park Carousel
September 13, 2022
What do Jewish carving traditions and the horses of the Prospect Park Carousel have in common? Prospect Park's beloved 1912 Carousel has been a staple of fun and celebration for generations, and its design can be traced back to nineteenth century Jewish immigrants trained in the art of Torah ark carving.
Many Jewish immigrants who arrived in America in the late nineteenth and early twentieth century were artisans, immersed in Eastern and Central European skills and traditions of woodcarving. They were skilled in the art of carvings—horses, eagles, foliage and fruit for Torah arks and gravestones. Upon their arrival to the United States, many extended their craft to the American carousel industry, including Charles Carmel, carver of the Prospect Park Carousel.
Carmel fled antisemitism in his native Russia and arrived in the United States in 1883 at age 18. He worked as an apprentice in a workshop with other Jewish immigrant artists who became famed carvers responsible for many carousels across the country. These artisans' carving styles collectively became known as the 'Coney Island Style' of design with trademark elements that mirror the meticulous design elements of many synagogues and Torah ark carvings.


The Prospect Park Carousel lion alongside a Torah ark carving from around 1882 by an unknown artist. c. Laura Robinson and FolkArtMuseum.org
Assya Plavskina, Prospect Park Alliance's Architectural Conservator, has worked extensively to conserve and mantain the beloved Brooklyn Carousel. Plavskina says, "Carmel's style is very grand and has a strong focus on iconography and symbolism. Many of the horses are military-esque. The practicality of the armor, swords, and gilding, as well as the look of being in constant movement are trademarks of Carmel and the other carvers from his time." Similar to Torah ark carvings, the Carousel relies heavily on iconography and symbolism. Carmel's horses in particular also lean towards a practical style featuring swords, armor, and generally sturdy and practical horses over more whimsical or fantastical animals.


c. Virginia Freire and Jordan Rathkopf
Drawing from the craft and the detail required to carve Torah ark iconography, Carmel and his counterparts created incredibly life-like animals. Elements like bared teeth, tossing heads, flying manes, outstretched tongues, and vibrant gilding are staples of the Coney Island Style and mirror the dramatic iconography of Torah ark woodwork from the time. Interestingly, Carmel's style in particular places an emphasis on the outward appearance of the animals. A walk through the Prospect Park Carousel shows no detail spared on the outer-facing side, while the inner-side of the horses are much more simplified without the ornate textures and colors of the outer side: a notable element of Carmel's methodical and efficient approach to his work.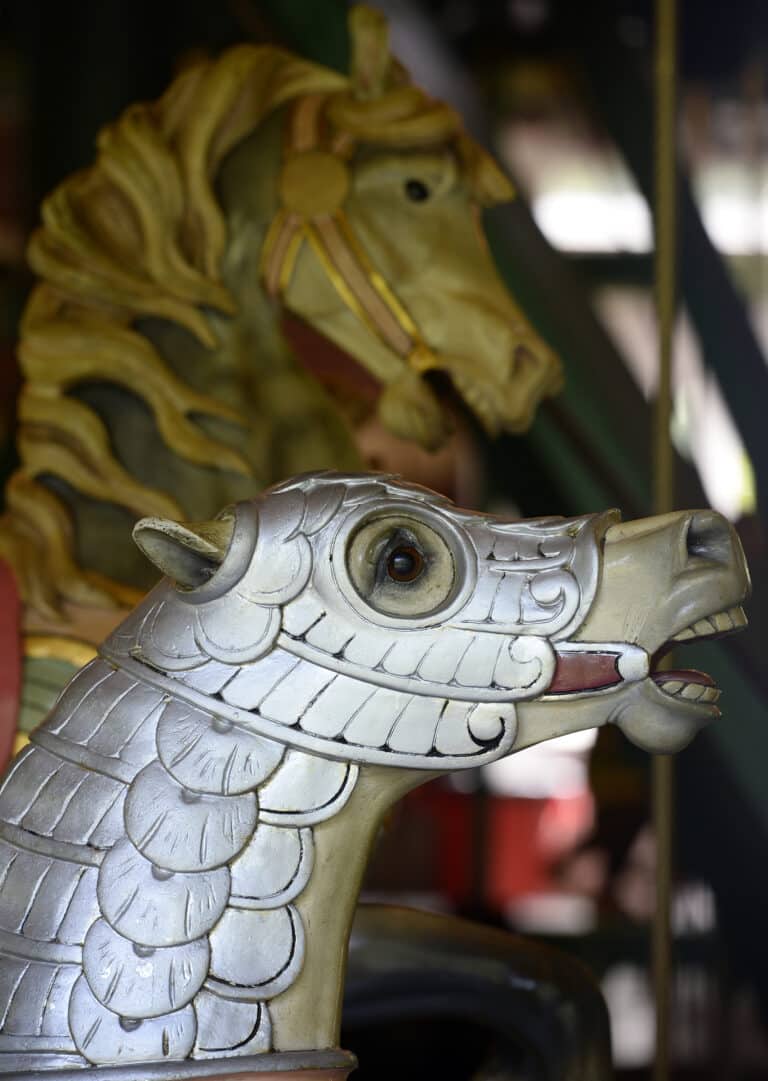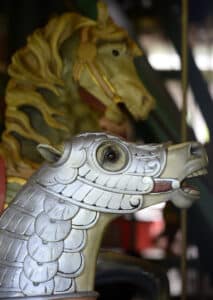 Heavy gold and silver gilding were key elements of Carmel's design style that can be seen on several horses at the Prospect Park Carousel. c.  Paul Marinka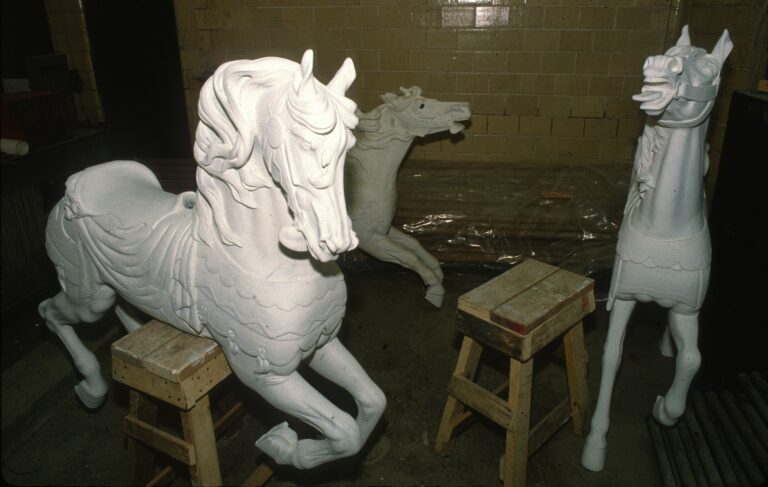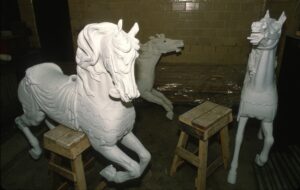 Carousel Horses in the workshop during restoration. c. Prospect Park Alliance Archives
Want to learn more? Take a visit to the Prospect Park Carousel to see which classic elements of Coney Island Style you can spot and keep an eye out for parallels between nineteenth century Torah ark carvings and the 53 magnificent horses riding alongside a lion, a giraffe, a deer and two dragon-pulled chariots at the Carousel.