New Flatbush Entrances Open
January 28, 2021
Just in time for the new year, Prospect Park Alliance and NYC Parks have opened to the public the first new entrances to Prospect Park since the 1940s, and the restored Flatbush Avenue Perimeter, while work is completed on site. The new entrances were funded by Mayor Bill de Blasio, and designed by Prospect Park Alliance, the non-profit organization that operates the park in partnership with the City, through the Parks Without Borders initiative.
Get Directions to the new Flatbush Entrance.
"Guided by input from New Yorkers, Parks Without Borders makes access to our beautiful park space across the city easier for all," said NYC Deputy Mayor for Housing and Economic Development Vicki Been. "Prospect Park's new Flatbush Avenue entrance and the adjacent street improvements bring the benefits of green space to even more New Yorkers."
"We are so excited to formally cut the ribbon on this transformative project I hold personally dear to me," said NYC Parks Commissioner Mitchell J. Silver, FAICP. "The iconic Prospect Park is now even more inviting and accessible thanks to this investment from Mayor de Blasio and the efforts of our partners at Prospect Park Alliance. When I imagined how Parks Without Borders could improve and revitalize many of our beloved parks, I could not have pictured a more perfect example than Prospect Park. PWB has opened up new possibilities and new pathways for New Yorkers to enjoy our green spaces for generations to come."
"Prospect Park Alliance is committed to making Prospect Park open and accessible to all communities it borders, and we are grateful to be able to open pedestrian access while work concludes on the site," said Prospect Park Alliance President Sue Donoghue. "I want to thank Mayor Bill de Blasio and NYC Parks Commissioner Silver for their innovative Parks Without Borders initiative, and the many community members who came out in support of this project. These new entrances will serve as an important gateway to the park for our east side communities, and to the park's northeast corner, a focal point of our future restoration efforts."
New Entrance Design
Prospect Park was nominated for Parks Without Borders with overwhelming support from the surrounding communities. The $3.2 million project includes a major entrance in the northeast section of the park near the former Rose Garden, the site of future restoration by Prospect Park Alliance, and a secondary entrance located just north of the Prospect Park Zoo. Both entrances feature new lighting, seating and new landscaping. The major entrance aligns with a future DOT traffic signal and pedestrian crosswalk, intersecting a berm retained by a three-foot-high granite wall, and opens opens onto a small public plaza.
The entrance design includes:
An extensive new landscape with over 150 new trees—a mix of elms, hackberry, sweetgum, a variety of oak species, and a large mix of evergreen varieties, such as pines and hollies, which are important for wildlife and help to screen traffic noise.
Two levels of terraced seating, which provides views of the woodlands and serves as a gathering space for the community.
Rock scrambles of boulders with stepping stones that lead to an informal running trail. These boulders were sourced from the building site of the NewYork-Presbyterian Brooklyn Methodist Hospital Center for Community Health in Park Slope.
A palette of native flowering and perennial plants that will be visually stunning, beneficial to the park ecosystem and resilient to climate change.
Access directly into Prospect Park's woodlands—the first entrance to open directly onto this important park amenity, which is an area of focus and restoration for the Alliance since the early 1990s. Visitors are greeted by towering trees and can choose multiple paths that wind through the park's 250 acres of woodlands.
Broader Restoration Plans
The creation of these entrances is part of a comprehensive restoration of the Flatbush Avenue perimeter of Prospect Park. A second project, funded with $2.4 million from Brooklyn Borough President Eric L. Adams and Council Majority Leader Laurie Cumbo, and led by Prospect Park Alliance, restored the Flatbush Avenue perimeter from Grand Army Plaza to the Prospect Park Zoo to its original grandeur with new landscaping, an expanded promenade, and new furnishings. Through $2 million in funding by New York City Mayor Bill de Blasio, Prospect Park Alliance also is restoring 1,200 linear feet of paths in this area of the park, with new paving, park benches and lighting, and much-needed tree care. In addition, Prospect Park Alliance is in the early design phases of creating a covered horseback riding ring for this area of the park, just north of the Zoo, for public and therapeutic riding. This $4.1 million project is funded through the support of the New York City Council, Brooklyn Borough President Eric L. Adams and New York Council Member Brad Lander.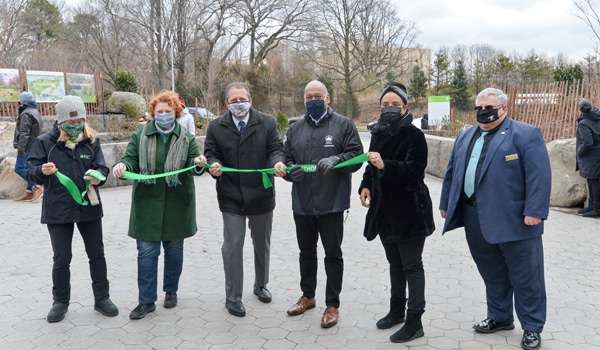 Left to Right: Sue Donoghue, Prospect Park Alliance President; Assembly Member JoAnne Simon; Council Member Brad Lander; Parks Commissioner Mitchell J. Silver; Majority Leader Laurie Cumbo; Brooklyn Parks Commissioner Martin Maher.
For the ribbon cutting, Deputy Mayor Been, Parks Commissioner Silver, and Prospect Park Alliance President Sue Donoghue were joined by City Council Majority Leader Laurie Cumbo, Council Member Brad Lander, Assembly Member JoAnne Simon, Borough Parks Commissioner Martin Maher and the Alliance design team.
"Although planned pre-pandemic, the unveiling of our new and improved Prospect Park could not be more timely. COVID-19 has provided further support for the notion that our parks are a fundamental part of the Brooklyn experience! I am so proud to stand alongside Mayor de Blasio, Borough President Adams, and my fellow elected officials to not only make Prospect Park more accessible but to invest in its beautification for all to enjoy ahead of Summer 2021," said Council Majority Leader Laurie Cumbo.
"Prospect Park has been a wonderful reprieve for myself and many others during this pandemic period," said City Council Member Brad Lander. "The new Flatbush Avenue entrances and the perimeter restoration will offer greater access to the Park as well as continued enjoyment for all users! I am thrilled to be apart of this ribbon cutting and am looking forward to watching my constituents as well as all the residents of Brooklyn enjoy these new features!"
Learn more about capital projects underway in Prospect Park on our Capital Projects Tracker.