c. Prospect Park Alliance
The Park's New Rustic Pergola
April 22, 2019
Prospect Park Alliance's Lakeside gardeners made the most of the mild winter this year. While they waited for the busy warmer season, they built a new destination, much to the delight of park visitors. The new rustic pergola, built by LJ Philp, Lakeside Lead Gardener; Allison Loux, Lakeside Assistant Gardener; and Melissa Finley, Lakeside Assistant Gardener, is located off the Park Drive, just north of the LeFrak Center at Lakeside.
"A common problem in the park is desire lines," says Philp, referring to the improvised and unintended paths made by park visitors. "We had a very noticeable one at Lakeside, so we decided instead of putting up another fence to keep people from walking through the planting, why not create an inviting destination for people to walk through and sit under."
Much of the unmilled, untreated wood sourced for the pergola came from downed park trees. In the coming months, additional decoration will come in the form of native plantings, including American wisteria that will grow over the structure. "I'm proud of our work and very happy to have had the opportunity to expand my carpentry skills," says Finley, "the pergola is an aesthetically pleasing and useful addition to the Lakeside landscape, which is as naturalistic as possible."
This new pergola carries on a tradition of rustic landscape features that date back to 18th century. Rustic work, which features unmilled wood, had been very popular in the grand English estates of the time period. Park designer Calvert Vaux's early mentor and business partner, Andrew Jackson Downing, was one of America's foremost landscape designers in the mid-1800s, and had popularized this style of building with his American clientele.
Calvert Vaux adopted this style to great acclaim, and when Prospect Park opened in 1867, the public was delighted by his rustic-style thatched shelters, romantic arbors and scenic overlooks nestled throughout the park. They became beloved destinations, and can be seen in many early photographs and postcards of the park.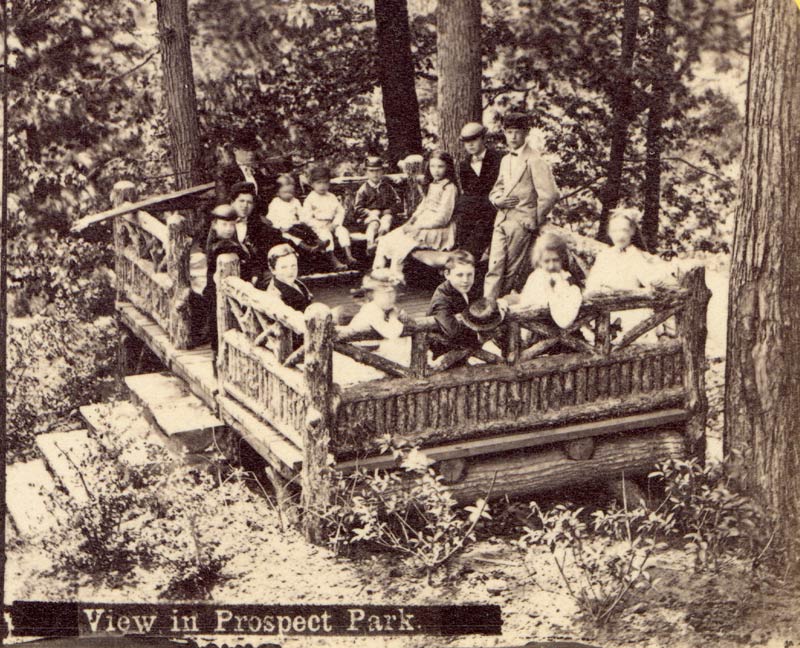 Rustic viewing platform in Prospect Park ravine, circa 1890. Prospect Park Archives/Herbert Mitchell Collection
None of these original structures have survived into modern times, but the rustic style can be seen throughout the park, notably at the Summerhouse on the lake shore near the Parkside and Ocean Avenue entrance; Binnen Bridge near the Boathouse; and the railings through the woodlands created and maintained by the Alliance's Natural Resources Crew and the Woodland Youth Crew.
And as for the reception of the park's new pergola? "It seems like park users love it,"  says Loux. "It feels great when someone walks by and says thank you, or that it's beautiful, or asks how we made it."
So, on your next run or walk on the Park Drive, make sure to stop and enjoy this exciting new addition to the park, and learn more about how Prospect Park Alliance is advancing the park.