Prospect Park's New Freeze-Resistant Fountains
November 23, 2018
Runners rejoice! On Thanksgiving morning, November 22, 2018, New York City Council Member Brad Lander joined Prospect Park Alliance President Sue Donoghue for the inaugural gulp from the park's new freeze-resistant drinking fountains. Council Member Lander funded this $175,000 project through the District 39 participatory budgeting initiative that has enabled the Alliance to install four fountains along the Prospect Park Drive that are freeze-resistant and available through all four seasons.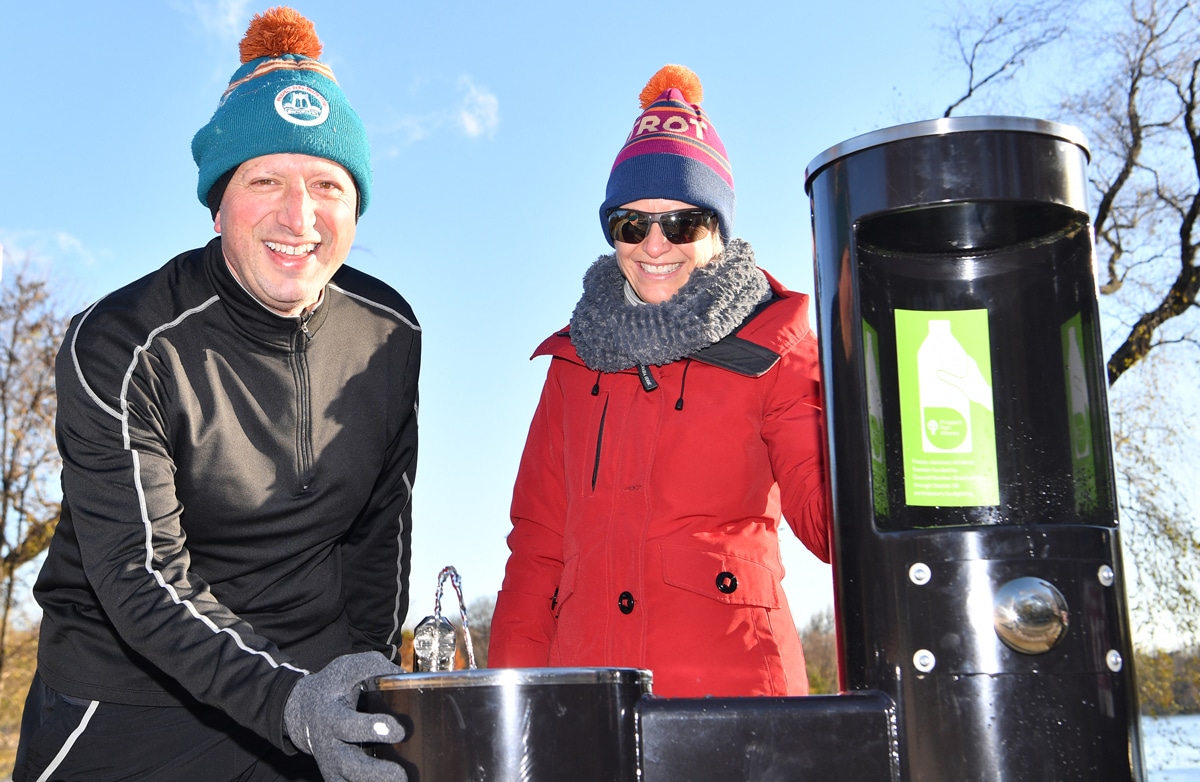 Council Member Brad Lander and Alliance President Sue Donoghue try out the new freeze-resistant fountain. c. Paul Martinka
The event took place on Prospect Park's lakeshore, moments before the Prospect Park Track Club's annual Turkey Trot, which took place this year in historic sub-zero temperatures. Prospect Park offers miles of roadways and paths for serious and recreational runners and walkers, including the park's 3.36-mile running lane along the Park Drive.
"I'm thrilled that the freeze resistant water fountains, a 2016 participatory budgeting project winner, are finally up and running in Prospect Park," said Council Member Brad Lander. "The many runners, cyclists, and walkers who exercise in the park during the winter months will now be able to hydrate even in the coldest weather! Huge thanks to the Prospect Park Alliance for their help in seeing this project through."
Due to problems posed by frozen pipes, traditional city drinking fountains are turned off during much of the fall and winter months. This leaves the multitudes of Prospect Park's runners, walkers and visitors without a source of drinking water in the park.
The year-round fountains' plumbing is located more than four feet underground—below the "frost line," where the water is well insulated and does not freeze. Each time the fountain is used, the water drains all the way back down, preventing frozen pipes. This feature necessitates that users hold the button down for a few additional seconds than at a traditional fountain, giving the water time to make it up to surface-level.
A total of four new year-round fountains will grace the Park Drive—two entirely new fountains near the Garfield Street Entrance and the Vanderbilt Street Playground, as well as two retrofitted existing fountains near the Parkside entrance and the Ballfields. 
Prospect Park Alliance is the non-profit organization that operates the park in partnership with the City. We provide critical staff and resources that keep the park green and vibrant. Through the end of 2018, support the park and your donation will count double thanks to a matching challenge.
Learn more about projects in the park on our Capital Projects Tracker.