Lefferts Historic House Cornbread
This activity comes to us from the educators at Prospect Park's Lefferts Historic House. Check out the Lefferts at Home page for more.
Ready for a recipe blast from the past? We are sharing the Lefferts family recipe for cornbread. This simple sweet bread is suitable on its own for breakfast or as a side dish with dinner. But first, some historical context.
When Europeans first began colonizing the Americas in significant numbers in the 17th century, they were introduced to corn by Native Americans who had been cultivating the crop across the continent for nearly 10,000 years. Prized for its high yields, ease of storage and varied uses, corn quickly became a staple crop among Europeans. A simple porridge of corn and milk has been described as the "perpetual supper" among Dutch settlers like the Lefferts family who settled in Brooklyn in 1661. By the 19th century, corn had made its way into many recipes of European settlers, sometimes as a substitute for other grains, but often in new, unique American dishes.
In the Lefferts collection of recipes, corn is a staple ingredient. The Lefferts family cornbread recipe originated with a person identified as "the black cook on board the steamer 'Isaac Newton.'" While there is no further information about who this talented cook was, based on the time period it is most likely they were a former enslaved person or a first generation free person employed by the Hudson River Steamboat Association.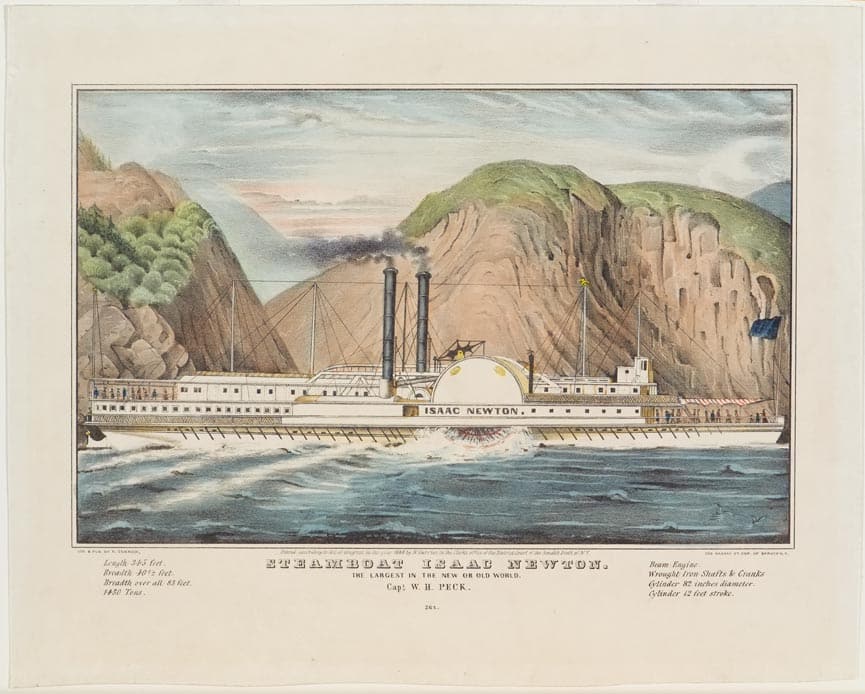 Steamboat ISAAC NEWTON by Nathaniel Currier
Michele and Donald D'Amour Museum of Fine Arts, Springfield, Massachusetts. Gift of Lenore B. and Sidney A. Alpert, supplemented with Museum Acquisition Funds – Photography by David Stansbury
This recipe was discovered by the staff at the Lefferts Historic House, hand-written on scrap of blue paper tucked into the back of the Lefferts Family's 19th century cookbook. It can be dated between 1846-1863, the time period the steamboat 'Isaac Newton' was in operation. Below, find a reproduction of the original recipe as it was discovered, as well as a modern adaptation created especially for the Lefferts Historic House by renowned food historian Peter Rose.
Mrs. Lefferts Cornbread Recipe
(or "a receipt" as was said in the 19th century)
RECEIPT FOR CORN BREAD, FROM THE BLACK COOK ON BOARD STEAMER "ISAAC NEWTON"
2 eggs to 1 lb Indian
1 oz Butter
½ teaspoon Salaeratus to 4 lbs Indian*
Dissolve the Salaeratus in hot water: mix the bread with sour milk; mix the bread and milk, the butter before you put in the Salaeratus; put the butter in last; beat Eggs well. Stir all very well; put the loaf into hot oven, 2 lbs of Indian will make enough for 10 or 12 person.
*The recipe above lists a few ingredients that are unfamiliar to us today. The first, Salaeratus, is an early form of baking soda. The second, "Indian" or "Indian Meal", was a common name for  Corn Meal. Culinary historian Peter G. Rose studied the Lefferts receipt and adapted it for today's ingredients.
Corn Bread
As adapted for publication in Foods of the Hudson by Peter G. Rose.
1 ½ cups yellow cornmeal
½ teaspoon baking soda
1 ½ teaspoon baking powder
1 teaspoon salt
1 cup buttermilk
1 egg, lightly beaten
1 tablespoon butter, melted and cooled
Preheat the oven to 425 F.
In a large bowl combine the cornmeal, baking soda, baking powder, and salt. In a 2-cup measuring cup combine the buttermilk, egg, and melted butter and slowly pour into the dry ingredients, stirring well to combine thoroughly. Pour into an 8-inch loaf pan. Bake for 30 minutes, or until a knife inserted in the center comes out clean.