Winter Work—Prepping for Spring Plantings at Lakeside
February 16, 2022
If you've visited the area around the LeFrak Center at Lakeside recently, you may have noticed Alliance gardeners hard at work and wondered, "what's going on?" For weeks, dedicated staff and volunteers have been laying down cardboard and piles of leaves in an attempt to nip a persistent spring problem in the bud.
"In some areas we're fighting a battle against the weeds and their seeds," says Corbin Laedlein, Lakeside Lead EcoZone Gardener. Lakeside's planted landscape is carefully managed to sustain wildlife and support the native ecosystem—but invasive and opportunistic plants can quickly outcompete the beneficial species. To combat the unwanted plants, Laedlein is overseeing large-scale "sheet mulching," a technique being employed by the Alliance's Lakeside gardeners in preparation for new plantings in the area come spring. "The main weeds we are suppressing are Mugwort (Artemisia vulgaris), Bedstraw (Galium aparine), Vetch (Coronilla varia) and Canada thistle (Cirsium arvense)," says Laedlein.
The Lakeside EcoZone team, which includes Laedlein and EcoZone Gardners Jesse Brody, AJ Logan and Christopher Pierce, first conducted a good deal of prep work to clear the targeted areas of these invasive plants and their root systems, then placed  a layer of cardboard to fully cover the soil. A layer of freshly-fallen leaves from park trees, gathered by Prospect Park's Turf Crew, provided a layer of mulch to spread on top of the cardboard. By spring, the materials will have begun to decompose, and the gardeners will poke holes through the cardboard where new seedlings will be planted—ideally without the competition of the weeds, and benefiting from the fresh mulch.
By employing an eco-friendly weed-suppression method, Lakeside gardeners are avoiding the application of harmful chemicals in the park—an important goal for the Alliance's Landscape Management team. In recent years, similar innovative thinking has seen the introduction of goats to clear invasive plants on steep slopes and ladybugs to tackle a harmful lace bug infestation. "Sheet mulching is super labor-intensive work," says Laedlein, "and this large project couldn't have been accomplished without the Alliance's Lakeside EcoZone Gardeners, Alliance Volunteers, the City Cleanup Corps and the Prospect Park Turf Crew.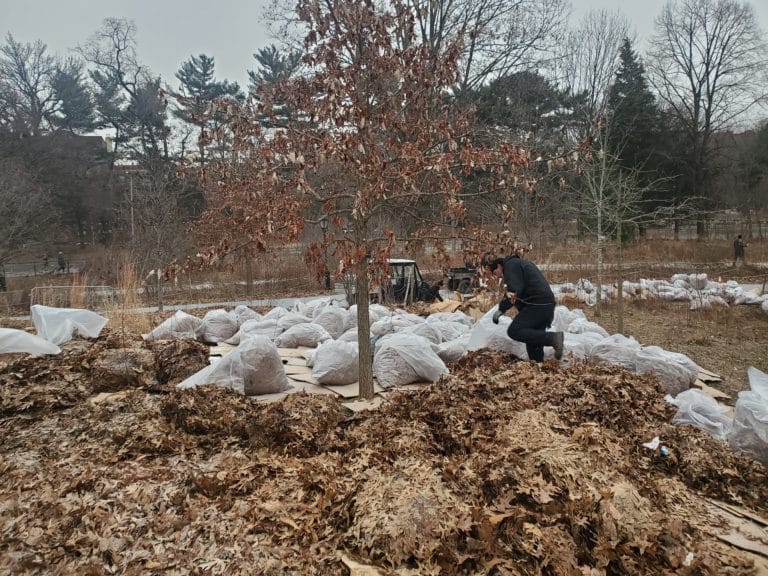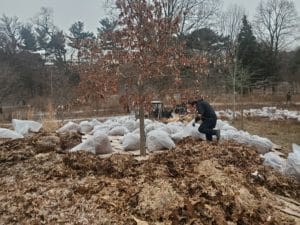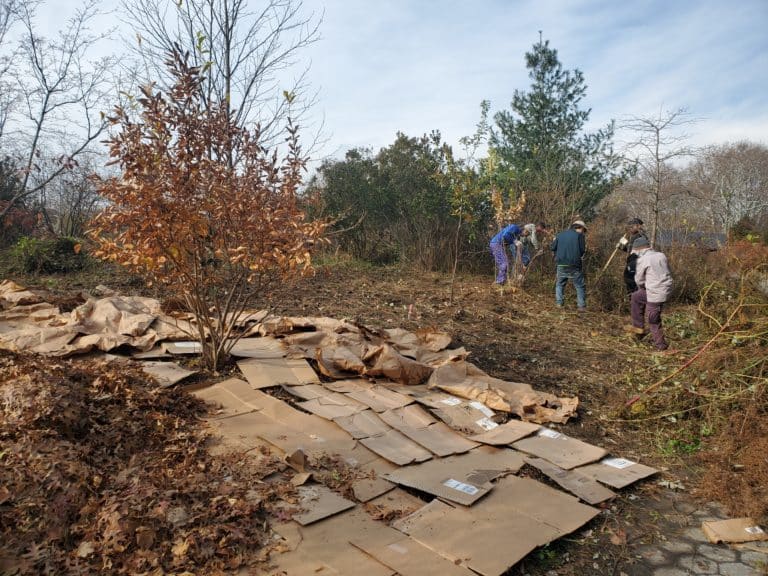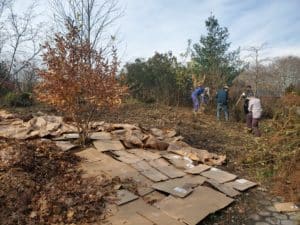 The spring plantings will include trees, shrubs, grasses and herbaceous perennials drawing on the original palette of plants chosen for Lakeside, plus a few new additions. This includes Whorled Milkweed (Asclepias verticillata), Foxglove Beardtongue (Penstemon digitalis) and Sweet pepperbush (Clethra alnifolia) to name a few—plants chosen for their resilience and ecosystem benefits.
Learn more about how Prospect Park Alliance is sustaining the environment.