Alliance Restores Northeast Paths
November 10, 2021
Through $2 million in funding by New York City Mayor Bill de Blasio, Prospect Park Alliance has completed the restoration of the pedestrian paths in the northeast corner of Prospect Park to make the area more accessible to the communities who use the park. The project kicked off in the summer of 2020 and wrapped up in August 2021.
"This project replaces broken and inaccessible pavement that's been in poor condition for more than half a century as layers upon layers of asphalt have continued to erode," said Svetlana Ragulina, Prospect Park Alliance Senior Landscape Architect. "Now visitors of all abilities will be able to more easily navigate the area and experience it for longer periods each day thanks to the newly installed lighting and benches."
This project included the following:
The reconstruction of approximately 2,500 linear feet of paths, with new asphalt paving and traditional hex block pavers between Grand Army Plaza and the newly restored Endale Arch.
Installation of 15 new park benches and lighting along the paths through the addition of 60 light poles.
Much-needed tree care, seeding and new plantings to restore the natural areas.
Replacement of the play sand in the beloved Zucker Natural Exploration Area.
Clearing and reconstruction of 19 catch basins, which will help with drainage in heavy rain events.
The newly restored paths connect major points of interest in the northeast, including Grand Army Plaza, Endale Arch, the Park Drive, Vale of Cashmere, the Zucker Natural Exploration area, the Rose Garden and the new park entrances at Flatbush Avenue.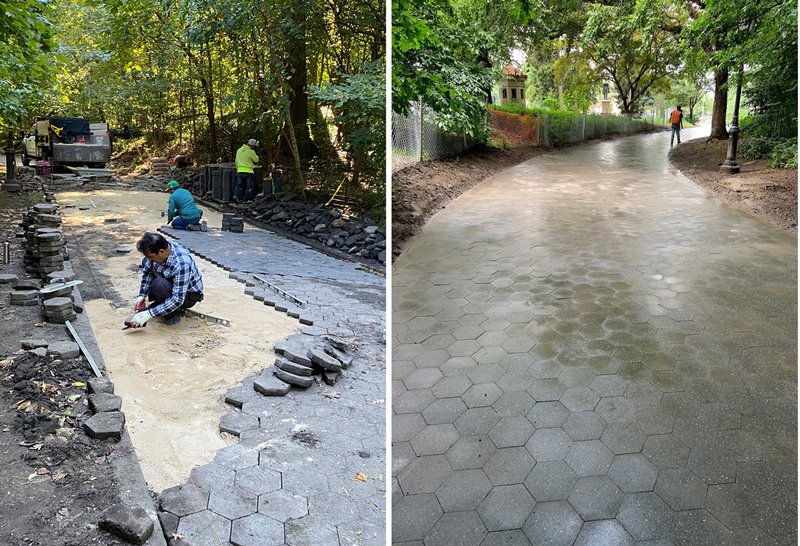 Learn more about park projects on our Captial Projects Tracker.