Alliance Tackles Isaias Storm Damage
August 12, 2020
On August 4, 2020, Tropical Storm Isaias pummeled the NYC area, with 70 mph winds causing widespread damage and power outages in the region. Prospect Park was not spared the effects of the storm, and Prospect Park Alliance is now dealing with major tree losses and damage throughout the park. While a complete survey of the park is still underway, a preliminary report tallies roughly 60 trees down, 54 trees with severe damage, and many more with loss of major limbs. 
"This is the worst wind event we've had since Superstorm Sandy in 2012," said Christian Zimmerman, Prospect Park Alliance Vice President of Capital and Landscape Management. "We're seeing the loss of a number of very old trees, smaller trees ripped completely out of the ground, and many trees where the loss of a limb and stripped bark will leave them exposed to pests and disease."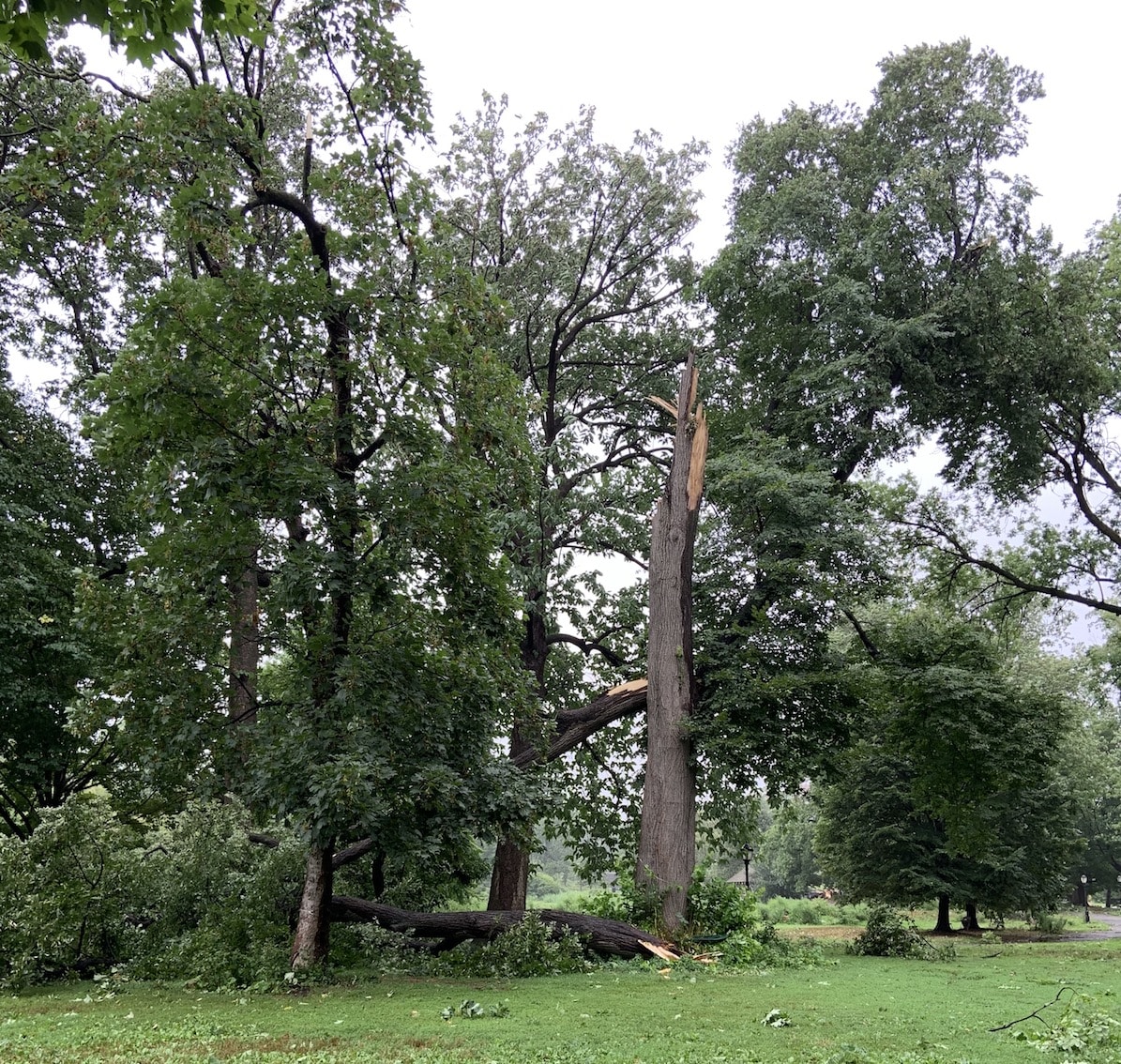 According to Zimmerman, trees of all species and ages were affected, and the Midwood—the forested area behind the Prospect Park Carousel and along the East Drive—was particularly hard hit. The Alliance works with NYC Parks Brooklyn Borough Forestry crews to respond to the largest and most dangerous tree situations, but the City received over 21,000 tree-related service calls, and the Forestry units are dealing with many high-risk tree situations throughout the borough. As a result, the Alliance's Natural Resources Crew and Woodlands Youth Crew have been focused on storm damage cleanup in the park, in a summer that has already seen resources pushed to their limit due to the COVID-19 pandemic. 
"We're going to need a few more weeks to get a handle on the situation in Prospect Park," said Zimmerman, "and in the meantime, we need the support of our community to help us through this."
Here are ways you can help Prospect Park recover from Tropical Storm Isaias:
Call 311: Notice an impacted tree or branch that needs be be addressed? Call 311 to let them know the situation and location—it will help the City decide how to prioritize the deployment of their Borough Forestry crews and bring them to the park sooner.  
Respect Park Workers: If you see Alliance and City Crews out clearing debris in the park, give them their space and thank them if you are able—tree removal is taxing and difficult work.
Use Common Sense: Avoid dangerous situations—stay away from areas cordoned off by caution tape, and do not climb on recently fallen trees or limbs. These are precarious situations and not worth risking your safety. 
Donate to the Alliance: Prospect Park Alliance is a nonprofit organization, and any donations go directly into caring for Brooklyn's Backyard. Make a gift today to support your park and help in the recovery from Tropical Storm Isaias.
View more storm damage photos below, taken by Mary Keehbauch, Prospect Park Alliance Deputy Director of Landscape Management.